Mike Nova's Shared NewsLinks
Mike Nova's Shared NewsLinks
Russia | The Guardian: EU anti-propaganda unit gets 1m a year to counter Russian fake news
---
East Stratcom taskforce will be funded from EU budget for first time after summit highlights threat from cyber-attacks and fake news
The EU is stepping up its campaign to counter disinformation and fake news from Russia by spending more than 1m a year on its specialist anti-propaganda unit.
For the first time since the team was set up in 2015, the East Stratcom taskforce will have money from the EU budget, rather than relying on contributions from EU member states or squeezing other budget lines. The unit has been granted 1.1m (£980,000) a year from the EU budget for 2018-20, according to a source familiar with the teams work.
Continue reading…

 Russia | The Guardian
СМИ сообщили о выделении Евросоюзом млн евро на борьбу с «пропагандой» из России
---
Евросоюз потратит более одного миллиона евро на борьбу с «дезинформацией и фейковыми новостями» из России. Об этом 
сообщает
 британская газета The Guardian со ссылкой на источник.
По данным собеседников газеты, эти средства выделят подразделению ЕС по борьбе с пропагандой — East Stratcom. Деньги уже заложены в бюджете Евросоюза на 2018–2020 годы.
Издание отмечает, что это первый случай, когда подразделение по борьбе с пропагандой, основанное в 2015 году, финансируется напрямую из бюджета Евросоюза. До этого, специалисты, в частности, получали деньги от государств-членов ЕС.
Сообщения о выделении Евросоюзом бюджетных денег на борьбу с «пропагандой» из России появились на фоне заявления председателя Европейского совета Дональда Туска на саммите «Восточного партнерства». Туск тогда сказал, что одни из главных проблем Европы — это «кибератаки, поддельные новости и гибридная война».
Напомним, в 2015 голу Туск поручил главе Европейской службы внешних дел (EEAS) Федерике Могерини создать оперативную группу по стратегическим коммуникациям на Востоке  (East StratCom Task Force) для «противодействия российской пропаганде». В нее вошли дипломаты, эксперты по России, журналисты и специалисты по соцсетям.
В конце марта 2017 года Европейская народная партия, имеющая наибольшее представительство в Европейском парламенте, 
приняла 
резолюцию «Российская дезинформация подрывает западную демократию». Документ предлагал увеличить финансирование и расширить штат сотрудников East Stratcom Task Force.
Также было предложено создать русскоязычный телеканал в Европе, способный стать альтернативой Russia Today.
Voice of America: Turkish Official: Trump Has Agreed to Stop Arming Syrian Kurdish Fighters
---
U.S. President Donald Trump has told his Turkish counterpart that the U.S. will no longer supply weapons to Kurdish YPG fighters in Syria, according to a Turkish officials summation of the call on Friday between the two world leaders. Foreign Minister Mevlut Cavusoglu said Trump made the comment Friday after speaking by phone with President Recep Tayyip Erdogan. According to Cavusoglu, Trump said he had given clear instructions that the YPG not be given arms. Cavusoglu also quoted the U.S. president as saying, This nonsense should have ended a long time ago. A White House statement issued Friday evening said Trump informed Erdogan of pending adjustments to the military support provided to our partners on the ground in Syria. The statement described the change as consistent with our previous policy, and said it reflects the new phase of the battle after the fall of Raqqa, the capital of the Islamic State's self-described caliphate. The battle of Raqqa is complete and we are progressing into a stabilization phase to ensure that ISIS cannot return," the White House statement said, using an acronym for the militant group. The statement did not specifically name YPG. Erdogan and Trump also discussed the purchase of military equipment from the United States by Turkey, according to the White House. Turkey has been pushing to persuade the U.S. to abandon support for the YPG as the militia fights the Islamic State group. The U.S. considers the Syrian Kurds its best fighting force on the ground against Islamic State, but has to balance that interest with maintaining good relations with Turkey, a NATO ally. Ankara considers the YPG a terrorist organization linked to the outlawed Kurdistan Workers' Party, or PKK, in Turkey. The PKK has been fighting Turkey since 1984 in a conflict that has left about 40,000 people dead. Turkey, the U.S. and the European Union consider the PKK to be a terrorist group. Relations between Ankara and Washington also have been strained over issues that include the U.S. refusal to extradite a cleric wanted by Turkey in connection with a failed coup last year. The cleric, Fethullah Gulen, denies involvement. Additionally, Ankara has been critical of U.S. plans to try Turkish-Iranian gold trader Reza Zarrab and Mehmet Hakan Atilla, an executive with Turkish state bank Halkbank, on charges of defying sanctions against Iran. Ankara describes the case as political. The defendants are scheduled to go on trial next month in New York.

 Voice of America
Voice of America: Trump Wants to End Welfare of Clinton Era
---
Overhauling welfare was one of the defining goals of Bill Clintons presidency, starting with a campaign promise to end welfare as we know it, continuing with a bitter policy fight and producing change that remains hotly debated 20 years later. Now, President Donald Trump wants to put his stamp on the welfare system, apparently in favor of a more restrictive policy. He says people are taking advantage of the system. Trump, who has been signaling interest in the issue for some time, said this past week that he wants to tackle the issue after the tax overhaul he is seeking by the end of the year. He said changes were desperately needed in our country and that his administration would soon offer plans. Work on new policy begins For now, the president has not offered details. Spokeswoman Sarah Huckabee Sanders said more specifics were likely early next year. But the groundwork has begun at the White House and Trump has made his interest known to Republican lawmakers. Paul Winfree, director of budget policy and deputy director of Trumps Domestic Policy Council, told a recent gathering at the conservative Heritage Foundation that he and another staffer had been charged with working on a major welfare reform proposal. He said they have drafted an executive order on the topic that would outline administration principles and direct agencies to come up with recommendations. The president really wants to lead on this, Winfree said. He has delivered that message loud and clear to us. Weve opened conversations with leadership in Congress to let them know that that is the direction we are heading. Trump said in October that welfare was becoming a very, very big subject, and people are taking advantage of the system. Clintons campaign promise Clinton ran in 1992 on a promise to change the system but struggled to get consensus on a bill, with Democrats divided and Republicans pushing aggressive changes. Four years later, he signed a law that replaced a federal entitlement with grants to the states, placed a time limit on how long families could get aid and required recipients to go to work eventually. It has drawn criticism from some liberal quarters ever since. During her presidential campaign last year, Democrat Hillary Clinton faced activists who argued that the law fought for by her husband punished poor people. No evidence of fraud Kathryn Edin, a professor at Johns Hopkins University who has been studying welfare since the 1990s, said the laws legacy has been to limit the cash assistance available to the very poor and has never become a springboard to work. She questioned what kinds of changes could be made, arguing that welfare benefits are minimal in many states and there is little evidence of fraud in other anti-poverty programs. Still, Edin said that welfare has never been popular even from its inception. It doesnt sit well with Americans in general. Robert Rector, a senior research fellow at Heritage, said he would like to see more work requirements for a range of anti-poverty programs and stronger marriage incentives, as well as strategies to improve results for social programs and to limit waste. He said while the administration could make some adjustments through executive order, legislation would be required for any major change. This is a good system, he said. We just need to make this system better. Administration officials have suggested they are eyeing anti-poverty programs. Trumps initial 2018 budget proposal, outlined in March, sought to sharply reduce spending for Medicaid, food stamps and student loan subsidies, among other programs. Budget director Mick Mulvaney said this year, If you are on food stamps and you are able-bodied, we need you to go to work.

 Voice of America
здоровье путина – Google News: Президент Судана обсудил с Путиным и Шойгу создание военной базы – Росбалт.RU
---
 здоровье путина – Google News
Russia and US Presidential Elections of 2016 – Google News: Turkey 'very happy' as US stops arming Kurds in Syria – NBCNews.com
---
 Russia and US Presidential Elections of 2016 – Google News
Turkey's Torrid Love Affair With Michael Flynn – Politico
---

Politico

Turkey's Torrid Love Affair With Michael Flynn

Politico

According to the Wall Street Journal, 

Flynn

 also met in September and December last year with senior Turkish officialsincluding energy minister Berat Albayrak, Erdogan's son-in-lawto discuss 

kidnapping

 Gülen and delivering him to Turkey, an 

…
Palmer Report: Michael Flynns deal with Robert Mueller is about to destroy these seven key Trump-Russia players
---
Michael Flynn signaled last night that he's negotiating a deal with Special Counsel Robert Mueller in Donald Trump's Russia scandal. So now what? Flynn is arguably the most crucial cooperating witness that Mueller could ever hope to land, because he's in position to implicate numerous high ranking people in the Russia scandal. Here are the seven key players who are about to see their lives destroyed.
Donald Trump: Let's start with the obvious. Michael Flynn was coordinating with the Russian Ambassador during the election and the transition period. He surely wasn't acting alone. He can point the finger to who else knew and by incriminating those people, he'll be putting them in position where they have to flip as well. Sooner or later, it'll lead back to Trump being implicated in the Russia scandal. However, he's far from the only one.
Jared Kushner: Flynn will have an easy time of implicating Kushner by revealing the true nature of Kushner's own meetings with the Russian Ambassador and the head of a Russian bank.
Ivanka Trump: We don't know why Ivanka Trump wandered into a transition period meeting and offered Michael Flynn any job in the administration he wanted. Was she being complicit, or just stupid? Even if Flynn can't implicate her for any crimes, he's about to take down Ivanka's father and husband. Either way, Ivanka's life will be destroyed.
Jeff Sessions: Flynn was so close to the Russian Ambassador, he almost certainly knows why the Ambassador kept meeting with Jeff Sessions during the election.
Donald Trump Jr: Flynn surely also knows the incriminating details of why Trump's son kept coordinating with various Kremlin players throughout the election.
Paul Manafort: There's nothing to suggest that Flynn can implicate Manafort. However, by cutting a deal, Flynn has made Manafort superfluous. That means that by the time Manafort caves and asks for a deal of his own, he'll end up with a far less favorable deal than he could have gotten before Flynn flipped.
Mike Pence: For reasons known only to him, Pence made a point of trying to protect Flynn from his Russia crimes, to the point of obstructing justice. Pence will end up in a world of hurt.
The post Michael Flynn's deal with Robert Mueller is about to destroy these seven key Trump-Russia players appeared first on Palmer Report.

 Palmer Report
"US betrayal of Kurds an attempt to fix troubled relations with Turkey & failed Syria policy RT World News
---
Syrian Kurdish militias will feel betrayed and will likely align closer with Damascus, if Donald Trump indeed delivers on his promise to Recep Tayyip Erdogan and "adjusts" US military support for the so-called Syrian Democratic Forces, experts have told RT.
In a phone call with his Turkish counterpart Friday, Trump briefed Erdogan on 
"pending adjustments for [US] military support provided to our partners on the ground in Syria."
 Turkish Foreign Minister, Mevlut Cavusoglu, who was present during the call, said Trump explicitly promised to
 "not provide weapons to the YPG,"
 which Ankara considers a terrorist organization affiliated with the Turkish Kurdistan Workers' Party (PKK).
Read more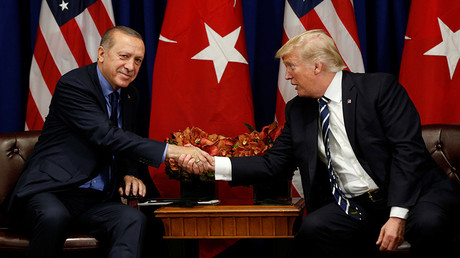 But without support from Washington, Kurds are likely to seek closer ties with Damascus to resolve the Syria crisis and retain the country's unity, investigative journalist, Rick Sterling told RT.
"What may happen, is that they may recognize and start working more closely with the Syrian government. Of course, they have never been fighting against the Syrian government forces. And I think what may happen here is that YPG will align and make it very clear that they are not seeking a federation or anything like that but they will be part of a future Syria," Sterling said.
Trump's intention to backtrack on his support for the Kurds, experts believe, is part of an attempt to "adjust" failing US policy on Syria, following a number of recent diplomatic markers, achieved with Russia's direct and dynamic input. Earlier this week, Russian President Vladimir Putin hosted Syrian leader Bashar Assad in Sochi. He later convened a summit on the future of Syria with the leaders of Iran and Turkey, where all parties endorsed an initiative to convene an all-Syrian national dialogue. The developments in Syria were also discussed between Putin and Trump Tuesday, during a more than an hour-long phone conversation.
"What is happening in Syria involves basically a failure of US foreign policy. What I mean is that Washington had allied with the Saudis regarding backing religious zealots. However, with the intervention of Russia, and Iran, and Hezbollah of Lebanon, these forces defeated the so-called Islamic State, defeated the religious zealots and therefore US policy is now scrambling to try to find an alternative to that failed policy," historian Gerald Horne explained.
"The timing [of Trump-Erdogan phone call] is being driven by Russia's role in seeking a solution and really making a lot of progress in resolving the conflict, bringing different parties together to the table," Sterling pointed out.
Пропустить рекламу: 5 сек
Перейти на сайт рекламодателя
Реклама 00
Пропустить
Наведите курсор,
чтобы включить звук
Sterling warned that some forces in Washington do not want peace to prevail in Syria. Furthermore, there is a chance that Washington might ally itself with Ankara's troops in Syria, who are officially on the ground there to monitor the Idlib de-escalation zone, one of four established by Moscow, Ankara, and Tehran earlier this year. Erdogan, however, made little secret of the fact that Turkish forces might challenge the Kurdish stronghold of Afrin in northern Syria.
"There has been a lot of Turkish troops going into Northern Syria, so it may be that Washington will align more closely with Turkish troops which will refuse to leave Syria," Sterling said. "I think what is going on in Washington is that there is uncertainty how to handle the situation. There are forces in Washington that want to play a spoiler in this [achieving peace]. They don't want to see a resolution to the conflict, and that is what is dangerous."
Washington's decision to back away from the YPG, which has been the core of the US-led Syrian Democratic Forces (SDF), is nothing less of a "betrayal," experts told RT.
"The Kurds have been betrayed many times in the past," Sterling said. "They will not be surprised by this. And they have probably been making plans for some time that their patron, the United States, will abandon them."
"The Kurds are in a corner" following the Iraqi Kurdistan independence referendum in September, which regional powers and the US failed to recognize, Horne said. "If the Kurds are getting a raw deal, this will not be the first time they have been traduced at the hands of Washington," he added. He noted that following the Erdogan-Trump call, the "Kurds are really over a barrel."
trump – Google Search
---
Washington Post
–
13 hours ago
The Trump administration is preparing to stop supplying weapons to ethnic Kurdish fighters in Syria, the White House acknowledged Friday, …
Trump – Google News: Trump tells Turkish president US will stop arming Kurds in Syria – Washington Post
---
 Trump – Google News
Lori Andrade Flynn – Google Search
---
Lori Andrade Flynn – Google Search
---
Michael Flynn is in eye of Russia investigation. At home, he's revered.
---
CLOSE
For the residents of Middletown, Rhode Island, General Michael Flynn, the former National Security Advisor is still their hometown hero, politics aside. USA TODAY
Michael Flynn, then National Security Adviser to President Trump, attends a press conference with Japanese Prime Minister Shinzo Abe in the East Room of the White House on Feb 10, 2017.(Photo: Jim Lo Scalzo, European Pressphoto Agency)
MIDDLETOWN, R.I. — They show up unannounced, with cash and checks to drop off at William Flynn's accounting firm on busy Aquidneck Avenue. "I was shocked and a little embarrassed," he said. "Some don't even know my brother, but they…wanted to do something for the family."
And at a local wedding celebration earlier this month, a guest sought out Jack Flynn for a private moment. "I don't have a lot of money," the wedding guest told him. "But I want you to know that I wrote a check for $100 to help your brother."
Michael Flynn is one of the most vulnerable figures in special counsel Robert Mueller's widening inquiry into Russia's interference in the 2016 election. That investigation took a dramatic step forward this week, when former campaign chairman Paul Manafort and aide Rick Gates were charged with money laundering and conspiracy for activities that took place before they joined the campaign.
Another Trump campaign aide, George Papadopolous, pleaded guilty to lying to the FBI about his Russian contacts – Mueller's first public allegation that an aide to President Trump's campaign sought to work with Russian officials to gather "dirt" on the Democratic nominee.
Unlike Manafort – whom prosecutors allege spent more than $1 million from offshore accounts on clothes alone – and many other Trump associates caught in the investigation's grip, Flynn and his family are not wealthy. As he struggles with legal costs verging on seven figures, residents of the small community Flynn calls home are rallying to his side, even though this New England town hardly qualifies as Trump Country – it's a deep blue stronghold where even some of his own family have long identified as Democrats.
Mike Flynn's childhood home in Middletown, RI. (Photo: Robert Deutsch, USA TODAY)
The Flynns never occupied any of the ostentatious Newport mansions that overlook the most privileged coastline in Rhode Island. But the sprawling family, which has produced two Army generals, is akin to royalty in nearby Middletown – a working class beach town where by now, most everybody knows the daunting legal peril facing its most decorated son.
After all, they watched Mike Flynn, the sixth of nine children, rise from high school football champion to venerated military officer and Trump's national security adviser.
They also watched his highly public and dramatic fall. Since he resigned in February for misleading Vice President Pence about his contacts with Russian officials after the election, two federal grand juries are still examining Flynn's activities – both as Trump's national security adviser and in a brief lobbying career before that. Flynn has made no secret of his desire for a deal to testify in exchange for immunity from possible prosecution. And earlier this year he asserted his Fifth Amendment protection against self-incrimination when he refused to turn over documents sought by the Senate Intelligence Committee.
Seven months after his unceremonious departure from the White House, trouble seemingly shadows virtually every corner of Flynn's life – except here. At the urging of his family and oldest friends, the former national security adviser and his family have sought extended refuge in what feels like a galaxy away from Washington – where Flynn's head-long descent into the political and legal unknown prompts flashes of anger, even contempt.
Jack Flynn, the fifth child in the family, described his brother's ordeal as "a political assassination — a bunch of bulls—t."
"I think that everybody is worried about what's happening in Washington, D.C., but this is home," added William Flynn, the eldest brother. "We grew up here, we know a lot of people and they know the family– like any other family– has problems. Most of them just happen to feel that Michael is a solid citizen." In the 16,000-person community that lies between iconic Newport and Portsmouth, the former head of military intelligence who earned four Bronze Stars and was twice recognized with the Legion of Merit remains remarkably unsullied.
It is not surprising that family and friends have rallied to the general's side. What is most striking is how the support here, a longtime Democratic stronghold where a Kennedy represented part of the state in Congress for 16 years, has transcended the nation's deep political divide. Flynn's own mother, Helen, was a well-known state Democratic activist.
"It's not about being a Democrat, Republican or Independent," said Middletown Council President Robert Sylvia, also a Democrat. "It's about Michael Flynn."
'Out of the spotlight'
In this August 1972 photo provided by the Newport Daily News, Michael Flynn, 13, of Middletown, R.I., right, shakes hands with Middletown Councilman Francis LaPointe, left, as he is presented with a commendation and town title, in Middletown. Flynn was honored for pulling one small girl from the path of rolling car, and directing a friend to save another girl.  (Photo: The Newport Daily News, AP)
As soon as he learned of Flynn's firing, Tom Heaney dashed off a letter to his old friend that contained a simple message: "Come on home."
Heaney's friendship with Flynn goes back nearly 50 years, when both were Middletown Little Leaguers and later, high school football teammates who captured the 1976 Rhode Island state championship.
"I thought it would be a good idea to spend time together, prop them up and let them know we are here for them," said Heaney, a retired Army colonel. "There is a pretty strong nucleus of friends who go back years. And a lot of us are still here. We're trying the best we can to keep Mike and Lori out of the spotlight." (Lori Andrade Flynn, the daughter of a large local Portuguese family, met Flynn in high school and her ties to the community run just as deep as her husband's.)
As the investigation crests in Washington, the criticism offered by cable television analysts or lobbed anonymously over the Internet is biting. "To hear people suggest that he is a traitor or should be shot, and to think that's not stressful—you're talking about somebody with more than 30 years of military service," Jack Flynn said. "That means something."
At home, Michael Flynn can lean on his support network. His parents, since taking up residence in the low-slung cottage on Tuckerman Avenue more than a half-century ago, have been a mainstay of the town. Helen and Charlie Flynn, a retired Army master sergeant, squeezed their nine children into the three-bedroom, one-bath home just steps from the surf.
There was so little room in the house, Jack Flynn said the kids spent most of the time outdoors. The family's close proximity to the ocean turned 57 Tuckerman into a kind of community clubhouse, where friends stacked surfboards outside and wet-suits were slung on the fence-line to dry in the ocean breeze.
In recent months, Michael and Lori Flynn have returned to their local haunts. You can find them with Flynn's brothers and their friends playing rounds of golf at nearby Montaup Country Club or taking in an occasional dinner at 22 Bowen's, a steakhouse on the wharf in Newport.
'It's a black hole right now'
Tom Heaney, left, and Robert 'Rocky' Kempenaar, two of Mik Flynn's friends in Rhode Island, have two major worries — that the entire clan will go broke paying the former National Security advisor's legal bills and that the Russia scandal will overshadow his storied military career. (Photo: Robert Deutsch, USA TODAY)
But it's not exactly a vacation.
Heaney and Robert "Rocky" Kempenaar, a local real estate executive who played football with Flynn say the weight of the investigations has exacted an enormous toll on their friend.
Flynn's prior consulting work, which also is being examined by investigators, has been virtually shuttered.With multiple investigations shadowing him, there is little demand for him on the speakers' circuit where in 2015 he earned $33,000 for a now-controversial speech in Moscow. About a year after leaving the military, the retired general spoke to the Kremlin-backed television network Russia Today – and a photo of him at a related formal dinner seated next to Russian President Vladimir Putin sparked tremendous controversy as the probe into possible collusion between Trump associates and Russia intensifies.
Now, with his legal fees mounting, Flynn has hired a team of attorneys led by Robert Kelner, a partner at the prominent firm of Covington & Burling, to respond to a flurry of requests for documents and other materials from investigators. Every inquiry, including from the media, pushes the costs ever higher.
Flynn's family, acknowledging the "tremendous financial burden," last month set up a legal defense fund to alleviate the costs. "The enormous expense of attorneys' fees and other related expenses far exceed their ability to pay," brother, Joe Flynn, and sister, Barbara Redgate, said in a statement creating the fund.
Although the solicitation asked for contributions from "supporters, veterans and all people of goodwill," the fund says it is not accepting donations from foreign nationals, the Trump Campaign or the president's family business, the Trump Organization.
Flynn's financial resources pale in comparison to other subjects of the investigation, including Trump himself. Trump has been tapping his campaign fund and the Republican National Committee to pay for his growing legal obligations. Earlier this month, the campaign reported that it spent more than $1 million on Trump and his son's legal fees during the previous three months. (Nearly $238,000 went to the firm defending Donald Trump Jr.)
More: Trump campaign spends more than $1 million on legal fees in last quarter
For a family that prizes independence and self-sufficiency, the decision to seek the help of others was "huge," William Flynn said.
Michael Flynn has a military pension, which pays about $160,000 per year. But the family maintains that the legal costs are increasingly stripping away the family's resources.
"You got all of these things going against you," William Flynn said. "And the government has unlimited resources. You've got a special prosecutor (Mueller), the House Intelligence Committee, the Senate Intelligence Committee, the Senate Judiciary Committee, the Justice Department, the FBI.
"It's a black hole right now," he said. "My biggest concern is that this never ends."
Meanwhile, in Washington
Lt. Gen. Michael Flynn speaks about American exceptionalism during the 2016 Republican National Convention. (Photo: Robert Hanashiro, USA TODAY)
Some 400 miles away, the retired general features prominently in some of the most troubling revelations so far involving the Trump administration and Russia.
Former acting Attorney General Sally Yates has recounted in extraordinary detail how she rushed to the White House in January to alert officials that Flynn could be vulnerable to blackmail by the Russians – and even face possible criminal charges – after misleading Pence about his contacts with Sergey Kislyak, the Russian ambassador.
Pence publicly announced that Flynn assured him the subject of sanctions the Obama administration imposed on Russia were not raised in his conversations with Kislyak after the election. But those conversations had been secretly monitored by federal authorities – as are most communications involving foreign diplomats. Authorities knew that was not the case. "Compromise was the No. 1 concern," Yates told a Senate panel in May. Russian officials, aware that Flynn had misled the White House, could have threatened to expose the nature of the communications.
More: Sally Yates warned White House that Michael Flynn was vulnerable to Russian blackmail
More: Pentagon opens probe of Michael Flynn, fired national security adviser
More: James Comey testimony: Trump pressed me to shut down Michael Flynn investigation
What's more, authorities viewed Flynn's contacts with Russian diplomats as improper while the Obama administration was still in office – and a possible sign the Trump administration may have been trying to roll back sanctions imposed for Russia's campaign of cyberattacks and fake news to influence the election.
The day after his Feb. 13 resignation, Flynn emerged as a central figure in yet another episode in the White House-Russia scandal. Former FBI Director James Comey has testified that Trump urged him at a private dinner to drop the investigation into Flynn's contacts with Kislyak. Trump has denied making such a request.
In this Jan. 28, 2017, file photo, President Donald Trump accompanied by, from second from left, Chief of Staff Reince Priebus, Vice President Mike Pence, White House press secretary Sean Spicer and National Security Adviser Michael Flynn speaks on the phone with Russian President Vladimir Putin in the Oval Office at the White House in Washington. Flynn resigned as President Donald Trump's national security adviser Monday, Feb. 13, 2017. (Photo: Andrew Harnik, AP)
Flynn's private business dealings also have drawn investigators' interest, including $530,000 in earnings from a Dutch firm with ties to the Turkish government, and payment for his 2015 Moscow speech.
Flynn had not registered as a foreign agent – a legal requirement – when he accepted money from the Dutch company and only disclosed the payments after registering retroactively amid news reports of the failing. Flynn's attorney, has maintained that his client had "fully" informed the Defense Department of his trip to Russia. He registered with the Justice Department after he was ousted from the Trump administration.
Flynn, through his attorney, declined to comment for this article.
Even the activities of Flynn's son, Michael Flynn Jr., who served as an aide to his father in the family's consulting business have raised questions. Last year, he was dismissed from President Trump's transition team for his promotion of a baseless conspiracy theory that a popular Washington, D.C., pizza parlor had become a front for a sex trafficking ring linked to the Clintons.
Yet Flynn's brothers quickly dismiss the idea that Flynn had thrown his allegiance to an adversary or sought to shield business dealings with foreign governments. "The idea that he would do something underhanded drives me crazy," William Flynn said. The scope of his brother's business dealings, Jack Flynn says, represented "measly chump change" and could not have benefited an adversary like Russia.
At the same time, they are clear-eyed about their brother's predicament. "The best case: this all goes away and Michael comes out unscathed," William Flynn said. "The worst case: he gets convicted of something like perjury." While the eldest Flynn is careful to say that he is not aware of anything that would warrant such a charge, he notes that bad recall of dates and times can turn into something much worse. "Sometimes, we're just sloppy," he said.
'An island mentality'
In this photo, date unknown, provided by Joe Flynn, Michael Flynn, left, sits with his mother Helen Flynn, right, near a football field, in Middletown, R.I. (Photo: Charlie Flynn, AP)
Kempenaar, Flynn's old friend, is not a Trump supporter. In fact, he said, Flynn's support for then-candidate Trump took some locals by surprise. Flynn was a fiery surrogate for Trump on the campaign trail, famously encouraging the audience at the Republican National Convention to chant "Lock her up!" – referencing Democratic challenger Hillary Clinton.
Yet none of this appeared to phase his friends back home. "I'll put it this way," Kempenaar said, "I could sleep at night knowing that Mike was there (at the White House). "I knew Mike had our best interests at heart."
Jon Zins, managing editor of the Newport Daily News which has chronicled the family's adventures over the years, believes that Flynn's generational roots have "superseded" any real political backlash in Democratic area.  "There is an island mentality to it, too," Zins said. "There is a real sense of pride in being from here."
But that pride is not blind, even here. Those closest to Flynn are concerned about how all of this ends. "I don't think Mike has to come out squeaky clean," William Flynn said. "I just want him to come out of it okay."
Mueller leaves after briefing members of the Senate Judiciary Committee on the investigation into Russia's interference in the 2016 presidential election on Capitol Hill on June 21, 2017.  Michael Reynolds, European Pressphoto Agency
Mueller departs after a closed-door meeting with members of the Senate Judiciary Committee on June 21, 2017.  J. Scott Applewhite, AP
Mueller arrives for a court hearing at the Phillip Burton Federal Building in San Francisco on April 21, 2016. He had been overseeing settlement talks with Volkswagen, the U.S. government and private lawyers for the automaker to buy back some of the nearly 600,000 diesel cars that cheat on emissions tests.  Jeff Chiu, AP
James Comey talks with Mueller before he was officially sworn in as FBI director on Sept. 4, 2013.  Susan Walsh, AP
Mueller jokes with CIA Director John Brennan during his farewell ceremony at the Department of Justice on Aug. 1, 2013, in Washington.  Evan Vucci, AP
President Barack Obama, followed by Mueller, right, and his choice for Mueller's successor, Comey, left, walks toward the podium in the Rose Garden on June 21, 2013.  Pablo Martinez Monsivais, AP
Mueller testifies during a hearing before the Senate Judiciary Committee on June 19, 2013, where he confirmed that the FBI uses drones for domestic surveillance.  Alex Wong, Getty Images
Mueller is sworn in on Capitol Hill on June 13, 2013, prior to testifying before the House Judiciary Committee.  J. Scott Applewhite, AP
Mueller and Director of National Intelligence James Clapper listen to statements at a Senate Intelligence Committee open hearing on worldwide threats on Jan. 31, 2012.  H. Darr Beiser, USA TODAY
Homeland Security Secretary Janet Napolitano, Mueller and National Counterterrorism Center Director Matthew Olsen testify on Capitol Hill on Sept. 13, 2011, before the Senate Homeland Security and Governmental Affairs Committee hearing on the terror threat to the U.S.  Evan Vucci, AP
Clapper speaks with Mueller during the launch of the strategy to combat transnational organized crime at the White House on July 25, 2011.  Nicholas Kamm, AFP/Getty Images
Mueller speaks at a conference on domestic terrorism on Oct. 6, 2010.  Jacquelyn Martin, AP
Obama speaks with Mueller during a meeting at FBI headquarters in Washington on April 28, 2009.  Saul Loeb, AFP/Getty Images
Mueller is welcomed on Capitol Hill on March 25, 2009, by Sen. Arlen Specter, ranking Republican on the Senate Judiciary Committee, prior to testifying before the committee's oversight hearing regarding the FBI.  J. Scott Applewhite, AP
Mueller and Sen. Patrick Leahy chat ahead of Mueller's testimony to the Senate Judiciary Committee on Sept. 17, 2008, on Capitol Hill.  Mandel Ngan, AFP/Getty Images
Mueller testifies on Capitol Hill on Feb. 5, 2008, before the Senate Intelligence Committee hearing on world threats.  Kevin Wolf, AP
Mueller prepares to testify on Capitol Hill on March 27, 2007, before the Senate Judiciary Committee hearing on the FBI.  Susan Walsh, AP
Mueller answers questions from the media in Charlotte, N.C., on April 24, 2006.  Chuck Burton, AP
CIA Director Porter Goss, Attorney General Alberto Gonzales and Mueller testify before the Senate Intelligence Committee on April 27, 2005.  Tim Dillon, USA TODAY
Mueller and Attorney General John Ashcroft exit a press briefing at the Department of Justice on Oct. 29, 2001.  Stephen Jaffe, AFP
Mueller is sworn in at the start of his testimony during his confirmation hearing before the Senate Judiciary Committee on Capitol Hill on July 30, 2001.  Dennis Cook, AP
President George W. Bush names Mueller the new director of the FBI at a Rose Garden ceremony on July 5, 2001.  Mike Theiler, AFP
1 of 22
Autoplay
Show Thumbnails
Show Captions
22 Photos
A look at former FBI director Robert Mueller
close dialog
Read or Share this story: <a href="https://usat.ly/2hpy1t1″ rel="nofollow">https://usat.ly/2hpy1t1</a>
5 Fast Facts You Need to Know
---
FacebookMichael Flynn and his wife, Lori.
According to various media reports, Michael Flynn, who served and resigned as President Donald Trump's National Security Advisor after 24 days, is facing federal charges. NBC News reported November 1 that federal investigators have enough evidence to bring charges on Flynn and his son, Michael Flynn Jr. The report hasn't been verified by officials, but they would come as part of a special investigation by Robert Mueller regarding possible collusion between Moscow and the Trump campaign.
Flynn is the sixth of nine children in a military family and has been married to Lori Andrade for over 30 years.
Here's what you need to know about the couple:
---
1. They Met in High School & Have Been Married for Over 30 Years
FacebookMichael and Lori Flynn
Flynn and Andrade met when they both attended Middletown High School in Rhode Island. A story in the Providence Journal says that they started seeing each other as sophomores and were officially dating by their senior year. The article said that Lori was "a pretty girl who played intramural and powder puff sports" and Flynn was a football player.
The couple got married and, according to a feature story on the University of Rhode Island website, have been together for over 30 years.
---
2. They Have 2 Sons Together
Michael and Lori Flynn at an event. Michael Flynn is the author of a book on "radical Islam." He argues the government has downplayed the nature of the threat to the American people. (Facebook/Lori Flynn)
The Flynns have two grown sons together: Michael Flynn Jr. and Matt Flynn. Michael Flynn Jr. has also been under scrutiny in the Mueller investigation, and served as the chief of staff of the Flynn Intel Group, a company he ran with his father. He's been very active on Twitter and commented on the reports of a possible indictment November 5.
Michael told the University of Rhode Island's alumni newsletter that Lori has been a huge influence on many through the years.
"Lori has been a steady presence in the lives of thousands of soldiers and their families during my numerous deployments and has played the role of not only mom, but dad, coach, teacher, and at times, taxi driver for our two sons, Michael and Matt, as well as for hundreds of other children," he told the publication. "She's always willing to volunteer her time for others."
---
3. Their Ties to Rhode Island Run Deep
Michael and Lori Flynn.
A recent story in the USA Todaysays that Flynn and Andrade are well known in their Rhode Island community, and a friend of the couple, retired Army Col. Tom Heaney, said they are active in the community and frequently are out and about.
"There is a pretty strong nucleus of friends who go back years," Heaney told the newspaper. "And a lot of us are still here. We're trying the best we can to keep Mike and Lori out of the spotlight."
Andrade grew up in Middletown, Rhode Island and is the daughter of a large Portuguese family who are from Aquidneck Island.
---
4. Flynn's Sister Said She Deserves Credit for Being a Strong Military Wife
The Flynns at a sporting event. Michael Flynn has Tweeted his support for the New England Patriots. He also likes the Boston Red Sox. (Facebook/Lori Flynn)
Lori has always been there during Flynn's decorated military service. Flynn's sister told The Newport Daily News that Lori deserves a great deal of praise for her patience and willpower.
"I give her a lot of credit because he has been at work for so many years," Clare Flynn Eckert said. "He is one of the strongest military wives, with Michael all the way."
---
5. The Flynns Have Tried to Keep a Low Profile Since His Resignation
Michael and Lori Flynn
Flynn announced his resignation from his position February 13 as controversy continued to mount. Reports surfaced about his communications with the Russian ambassador, and he stepped down just 24 days after he was hired.
In the months that followed, the Flynns returned to their hometown to get out of the spotlight, USA Today reported.
"In recent months, Michael and Lori Flynn have returned to their local haunts," the newspaper article said. "You can find them with Flynn's brothers and their friends playing rounds of golf at nearby Montaup Country Club or taking in an occasional dinner at 22 Bowen's, a steakhouse on the wharf in Newport."
The Providence Journal attempted to speak to Flynn following his resignation, and Lori answered the door at their Middletown house. She refused to comment.
"Not interested, thank you very much," she said before shutting the door.
---
$109.99 (56% off)
$54.00 – $140.00
$27.99 – $125.99
$159.98 – $209.98
$5.07 – $63.74
$94.99 – $1489.99
$19.57 – $74.99
$11.99 – $101.99
Michael Flynn is probably helping Mueller's Trump-Russia probe and it could be a big break for the case – World
---
Michael Flynn "has a story to tell," the fired U.S. national security adviser's lawyer 
promised back in March
, hinting at a trove of insider information relevant to an 
investigation
 of links between Russia and Donald Trump's 2016 presidential campaign.
Now it appears that Flynn might already be divulging what he knows, and likely opening a line of communication with special counsel Robert Mueller's investigators. The dead giveaway? Flynn's team has 
stopped sharing info
 with Trump's attorneys.
The revelation that Flynn's lawyers severed those communications about the Trump-Russia investigation was first reported by 
the New York Times
 on Thursday.
The legal manoeuvre, while not proving they have flipped and decided to co-operate with Mueller's investigators, "is the clearest indication we've seen to date that Flynn is co-operating with prosecutors," said former federal prosecutor Barak Cohen.
In this June 21 photo, special counsel Robert Mueller, left, departs after a closed-door meeting with members of the Senate Judiciary Committee about Russian meddling in the 2016 election and possible connection to the Trump campaign. (J. Scott Applewhite/Associated Press)
If confirmed, legal scholars say collaboration between Flynn and Mueller would be the biggest news in the Trump-Russia probe so far.
Cohen believes Flynn's legal team has likely been speaking to the government "for a while," and that a plea agreement is "imminent."
Given the criminal exposure Flynn is believed to have — owing in part to $530,000 US in payments from the Turkish government that he failed to disclose under the Foreign Agents Registration Act — there's incentive for him to play ball. He may also want to shield his son from indictment for his lobbying work on behalf of Turkey's authoritarian regime.
George Papadopolous, former foreign policy adviser with the 2016 Trump campaign, is now a co-operating witness in special counsel Mueller's Russia investigation. (Courtesy Linkedln)
Flipping Flynn could help build a case against Mueller's likely "primary target" — Trump himself, said Seth Abramson, a legal analyst and prominent Twitter user known for lashing out against Trump.
"Not because Trump's charges would be the largest charges, but because he's the most important person in the hierarchy," Abramson said.
Flynn would be able to provide a long view of Trump's relationship with Russia, particularly as he was involved in both the campaign and part of the early administration.
U.S. President Donald Trump is joined by former chief of staff Reince Priebus, centre, Vice-President Mike Pence, former senior adviser Steve Bannon, former communications director Sean Spicer and former national security adviser Michael Flynn, right, as he speaks by phone with Russian President Vladimir Putin. (Jonathan Ernst/Reuters)
Signs of co-operation
His attorneys were in discussions with the House and Senate intelligence committees back in March about negotiating an immunity deal in exchange for information that might be relevant to Mueller's probe into possible Russian collusion.
At the time, lawmakers said it would be premature to accept an immunity offer. Legal analysts believe Mueller used the time in between to gather leverage on Flynn before cutting a deal.
That Flynn has not communicated publicly for months suggested he was already co-operating, Cohen noted.
Defence lawyers with different clients sometimes enter into "joint-defence agreements" with one another if they share a common legal interest, in order to keep each other updated and to strategize without betraying attorney-client privilege. Continuing with such information-sharing can be deemed unethical for lawyers when a potential target is negotiating with prosecutors, giving rise to a conflict of interest.
Which is why legal experts suggest that Flynn's legal split from working with Trump's lawyers likely means Flynn is now working with Mueller.
Seemingly unconcerned by the optics, Trump jokes with Russian Foreign Minister Sergei Lavrov, left, and Russian ambassador to the U.S. Sergei Kislyak in the Oval Office the day after he fired FBI director James Comey, who was leading the Russia investigation. (Russian Foreign Ministry/EPA)
Typically, Cohen said, the parties might continue to engage in joint defence, even while talking with prosecutors representing the government, "until the prosecutors signal that co-operation may be jeopardized if the target of the investigation keeps talking to other targets."
For his part, Abramson argues the Trump-Flynn legal information-swapping was ethically dubious from the get-go. He cited a message that Flynn told supporters he received from Trump in April — "stay strong" — after Flynn was fired in February for lying to the vice-president about meeting the Russian ambassador.
A month later, Flynn refused to hand over documents subpoenaed by a Senate panel.
"Witness tampering," Abramson suggested.
The 'motherlode' of information
"What you want from Flynn is confirmation, whether through documentation or testimony, that it was in fact the deliberate plan for the Trump campaign to communicate they were going to unilaterally drop sanctions on Russia if Trump won the election," he said.
He added that Flynn's testimony would also be key to establishing whether the president meets a legal threshold of having a "high likelihood" of knowledge that Russia was committing computer crimes.
"Flynn can tell investigators more about what Trump was [allegedly] doing really behind the scenes with respect to Russia than any witness Mueller currently has ready and steady access to," he said. That includes George Papadopoulos, the Trump campaign foreign policy adviser who pleaded guilty last month to lying to federal agents about his attempts to communicate with Russia.
Flipping Flynn could yield "the motherlode" of information, said former federal prosecutor Mark Osler.
He speculated Flynn might still be at the first step towards cutting a deal — arranging a "proffer," in which prosecutors decide whether a defendant "is shooting straight" and is suitable for a co-operation arrangement.
If a deal proceeds, not only can Flynn "tell the whole story from the campaign into the whole administration," Osler said, but Flynn is also valuable for corroborating information about meetings he attended while serving as the national security adviser and in his campaign role.
Then-White House National Security Adviser Michael Flynn walks down the White House colonnade on the way to a news conference at the White House on Feb. 10. (Jim Bourg/Reuters)
Flynn's possible co-operation could also help to define who in the chaotic early days of the Trump administration called the shots, whether behind the scenes or at the forefront.
"Prosecutors love charts," Osler said. "Especially given that these prosecutors, many come out of working cases on corporations and the mob, two areas where structure would be very important."
In a Twitter thread, former federal prosecutor Renato Mariotti reacted that the development is "shocking" because it suggests Flynn no longer believes the president will pardon him or his son.
"If pardons are off the table, co-operation is likely the right move for Flynn," he wrote.
Did Donald Trump just publicly threaten Michael Flynns safety?
---
Last night multiple major news outlets confirmed that Michael Flynn is making moves to negotiate a plea deal with Special Counsel Robert Mueller, in what amounts to the worst case scenario for Donald Trump. Flynn will give up many of Trump's Russia secrets, taking Trump down in the process. Rather than ranting about it this morning, Trump made a statement which if you put it within the proper context sure sounds like a threat against the safety of Flynn and his son.
Flynn is accused of having illegally been on the payroll of the government of Turkey, and of having participated in a conspiracy to kidnap a Turkish cleric in Pennsylvania. Here's what Trump tweeted this morning, just hours after Flynn's deal was revealed: "Will be speaking to President Recep Tayyip Erdogan of Turkey this morning about bringing peace to the mess that I inherited in the Middle East. I will get it all done, but what a mistake, in lives and dollars (6 trillion), to be there in the first place!" There's more to this than initially appears.
At first it sounded like Trump was merely calling up Erdogan in a panicked attempt at figuring out how to respond to Flynn's decision to cut a deal. But the more I think about it, this sounds like something more. If this were just about Trump talking strategy with Erdogan, Trump and his handlers would have tried to keep the phone call secret, or at least as low-key as possible. Instead Trump promptly advertised on Twitter that the phone call had taken place, even though it meant making the entire thing look even more suspicious in the eyes of the public. That's because the tweet about the Turkey phone call wasn't intended for the general public. It was aimed at an audience of one.
This phone call, and in particular the tweet announcing it, were intended to send a message to Michael Flynn. But legally speaking, at this point there is nothing that Trump or Turkey can do to Flynn. It sure sounds like Trump is hinting to Flynn that Turkey's lawless regime might put his safety at risk if he goes through with the deal. Keep in mind that Flynn is flipping to protect his son from criminal prosecution. Is this a threat against Flynn's son's safety? If that sounds like it might be a stretch, keep in mind that just a week ago, Trump bizarrely insisted "people will die" if the Trump-Russia investigation continues.
The post Did Donald Trump just publicly threaten Michael Flynn's safety? appeared first on Palmer Report.
Trump speaks with Erdogan about 'mess' in Middle East
---
Inform News. Coming Up…

The Evolution of Starbucks' Holiday Cups

Trump, Turkish leader discuss Syrian crisis in phone call

Inform News. Coming Up…

6 Upcoming Movies You Need to Watch This Holiday Season

Inform News. Coming Up…

Watch Massive Spruce Get Cut For Rockefeller Center's Christmas Tree

Inform News. Coming Up…

2017 American Music Awards: Red Carpet Fashion

'Drumstick' and 'Wishbone' chosen turkeys ahead of White House pardoning

Justin Bieber Drops Out of 'Late Show' Taping, Thanksgiving Day Parade

Inform News. Coming Up…

Simone Garcia Johnson Is the 2018 Golden Globes Ambassador

Bride Wears Cat Pajamas To Prank Groom for Wedding First Look

Celebrity Moms and Dads Give Their Best Parenting Advice

Inform News. Coming Up…

Literally Just – 41 Wings From the Victoria's Secret Runway

Telsa to unveil electric big rig truck

Kim Kardashian Talks Baby Rumors on "Ellen"

Jordin Sparks Secretly Married and Pregnant With First Child!

Inform News. Coming Up…

Traffic Reporter Adds Taylor Swift Lyrics To Live TV Report

Blake Lively & Ryan Reynolds' Daughter Is on T.Swift's Song!

'All I Want for Christmas is You' Clip: Mariah Carey Debuts a Brand New Holiday Tune

GE to focus on 3 businesses

Mandy Moore is Co-Hosting 'Friendsgiving' With Her Future Mother-in-Law!

Inform News. Coming Up…

Celebrities Are Obsessed With These $10K Boots

Boyfriend Fakes Emergency While Flying Small Plane For Surprise Proposal

World's largest pink diamond expected to fetch up to $30 million

Inform News. Coming Up…

Kate Upton Marries Justin Verlander

5-Year-Old 'Marries' Boyfriend at Playground Before Third Open-Heart Surgery

Inform News. Coming Up…

Selena Gomez Shocks Students By Showing Up at High School

Sony proft prediction throws bone to investors

Inform News. Coming Up…

10 Cool Things to Buy From Oprah's Favorite List 2017

Watch Color Blind People Become Emotional Seeing Colors of Fall For First Time

Inform News. Coming Up…

The Evolution of Starbucks' Holiday Cups

Trump, Turkish leader discuss Syrian crisis in phone call

Inform News. Coming Up…

6 Upcoming Movies You Need to Watch This Holiday Season
Trump, Turkish leader discuss Syrian crisis in phone call
President Donald Trump spoke Friday with Turkey's president "about bringing peace to the mess that I inherited in the Middle East" before hitting the links with Tiger Woods and pro golfer Dustin Johnson.
Yahoo
President Donald Trump speaks to members of the U.S. Coast Guard at the Lake Worth Inlet Station, on Thanksgiving, Thursday, Nov. 23, 2017, in Riviera Beach, Fla.(Photo: Alex Brandon, AP)
President Trump discussed the path forward in Syria in a phone call with his Turkish counterpart, including what the Turks described as a plan to stop U.S. from going to Kurdish fighters inside the war-torn country.
Trump and Turkey's president Recep Tayyip Erdogan "underscored the need to end the humanitarian crisis, allow displaced Syrians to return home, and ensure the stability of a unified Syria free of malign intervention and terrorist safe havens," the White House said in a statement.
Turkish Foreign Minister Mevlut Cavusoglu told reporters in Ankara that Trump said that in the call the U.S. would no longer supply arms to Syrian Kurdish fighters that Erdogan regards as terrorists.
The White House statement did not specifically refer to the Kurds, saying only that Trump informed Erdogan "of pending adjustments to the military support provided to our partners on the ground in Syria, now that the battle of Raqqa is complete" and Islamic State militants are on the run.
Erdogan has long protested U.S. aid to Kurdish fighters in Syria, claiming they are an extension of militant groups that have waged a decades-long insurgency inside Turkey. The Turkish government has also expressed concern about Kurdish desires to set up an independent state within Iraq, a new country that would border Turkey.
The Kurds say Turkey has been trying to suppress them.
The Trump-Erdogan call came as Turkey, Russia, and Iran work on a plan to reach a political settlement to the civil war in Syria. Trump spoke last week with Russian President Vladimir Putin before he left for his Mar-a-Lago estate in Palm Beach, Fla., where he spent Thanksgiving.
More: President Trump, Vladimir Putin hold phone call on North Korea, Syria, other security issues
In announcing his plan to speak with Erdogan earlier Friday, Trump also took shots at his presidential predecessors.
"Will be speaking to President Recep Tayyip Erdogan of Turkey this morning about bringing peace to the mess that I inherited in the Middle East," Trump said. "I will get it all done, but what a mistake, in lives and dollars (6 trillion), to be there in the first place!"
Trump has used the $6 trillion figure before to describe the costs of U.S. involvement in Middle East conflicts, but has never specified how he arrives at that amount.
In September, Trump praised Erdogan as a "friend" during a meeting on the sidelines of the United Nations General Assembly, despite global criticism of his increasingly authoritarian rule in Turkey. Just before that meeting, the U.S. protested a physical attack on protestors at the Turkish ambassador's residence in Washington, D.C.
The Trump-Erdogan phone call also comes after reports that special counsel Robert Mueller is investigating Trump's former national security adviser Michael Flynn and his son's alleged plan to forcibly remove a Muslim cleric from the United States and deliver him to Turkey.
According to The Wall Street Journal, Flynn and his son Michael Flynn Jr. were allegedly were involved in a plan to deliver Fethullah Gulen to the Turkish government, which views Gulen as a political enemy and has pressed the U.S. for his extradition.
More: Report: Mueller probes Michael Flynn's role in alleged plot to hand over Fethullah Gulen to Turkey
Flynn — who was forced out of his White House job this year after revelations that he had misled officials about his conversations with the Russian ambassador — reportedly discussed the plan with Turkish government representatives last December. The meeting caught the attention of FBI, who have questioned at least four people about it, according to the Journal.
Flynn's lawyers have denied the allegations, but extraditing Gulen is a major priority for Erdogan. Earlier this year, Erdogan pressed Trump to send back the religious leader his government blames for an attempted coup last year and now lives in exile in Pennsylvania.
The Turkish government alleges Gulen and his followers are using a network of publicly funded charter schools to support revolution that would put his supporters in power in Turkey.
Documents Flynn filed earlier this year with the Justice Department raised fresh questions about his other ties to the Turkish government, even as he was serving as top adviser to Trump's presidential campaign – including including $530,000 in earnings from a Dutch firm with ties to the Turkish government.
In another tweet on Friday, the president said he would follow up the Turkey phone call by visiting Trump National Golf Club – "quickly" – for a round with pro golf stars Dustin Johnson and Tiger Woods. "Then back to Mar-a-Lago for talks on bringing even more jobs and companies back to the USA!"
Trump's pledge to play a "quick" game comes as Trump's critics mock him for the amount of time he spends on the golf course, just as Trump took aim at predecessor Barack Obama for his golf game.
Contributing: Jessica Estepa 
Read or Share this story: <a href="https://usat.ly/2B8PMEC" rel="nofollow">https://usat.ly/2B8PMEC</a>
trump investigation, flynn, turkey, kurds – Google Search
| | |
| --- | --- |
| | mikenova shared this story from trump investigation, flynn, turkey, kurds – Google News. |
---
Trump and Turkey's president Recep Tayyip Erdogan "underscored the need to … Erdogan has long protested U.S. aid to Kurdish fighters in Syria, … is investigating Trump's former national security adviser Michael Flynn and …
<a href="http://NBCNews.com" rel="nofollow">NBCNews.com</a>
–
Nov 10, 2017
Sources: Mueller Investigating Possible Flynn, Turkish Govt. … Rudy Giuliani, who was a top Trumpcampaign surrogate alongside Flynn, … with a plan President Barack Obama approved to arm Syrian Kurds in the ISIS fight.
The New York Review of Books
–
Nov 20, 2017
Flynn was an integral part of the Trump campaign and briefly served the … Flynn's work for the Turkishgovernment is also under investigation. …. jihadis, official corruption, the killing of Kurds, and the systematic arrest of …
Trump tells Turkey's leader: US to stop arming Syrian Kurds
---
Turkey's President Recep Tayyip Erdogan with U.S President Donald Trump in the Oval Office of the White House, May 16, 2017.    (Reuters)
ANKARA, Turkey –  The United States will cut off its supply of arms to Kurdish fighters in Syria, President Donald Trump told the Turkish president on Friday, in a move sure to please Turkey but further alienate Syrian Kurds who bore much of the fight against the Islamic State group.
In a phone call with Turkish President Recep Tayyip Erdogan, Trump said he'd "given clear instructions" that the Kurds will receive no more weapons — "and that this nonsense should have ended a long time ago," said Turkish Foreign Minister Mevlut Cavusoglu.
The White House confirmed the move in a cryptic statement about the phone call that said Trump had informed the Turk of "pending adjustments to the military support provided to our partners on the ground in Syria."
The White House called the move "consistent with our previous policy" and noted the recent fall of Raqqa, once the Islamic State group's self-declared capital but recently liberated by a largely Kurdish force. The Trump administration announced in May it would start arming the Kurds in anticipation of the fight to retake Raqqa.
"We are progressing into a stabilization phase to ensure that ISIS cannot return," the White House said, using an acronym for the extremist group.
The move could help ease strained tensions between the U.S. and Turkey, two NATO allies that have been sharply at odds about how best to wage the fight against IS. Turkey considers the Kurdish Syrian fighters, known by the initials YPG, to be terrorists because of their affiliation to outlawed Kurdish rebels that have waged a three decade-long insurgency in Turkey. Yet the U.S. chose to partner with the YPG in Syria anyway, arguing that the battle-hardened Kurds were the most effective fighting force available.
Cavusoglu, who said he was in the room with Erdogan during Trump's call, quoted the U.S. president as saying he had given instructions to U.S. generals and to national security adviser H.R. McMaster that "no weapons would be issued."
"Of course, we were very happy with this," Cavusoglu said.
Yet for the Kurds, it was the latest demoralizing blow to their hopes for greater recognition in the region. Last month, the Kurds in neighboring Iraq saw their recent territorial gains erased by the Iraqi military, which seized the oil-rich city of Kirkuk and other disputed areas from the Kurdish regional government in retaliation for a Kurdish independence referendum that the U.S. ardently opposed.
Trump's decision appeared to catch both the Pentagon and the U.S. State Department off guard. Officials at both agencies, who would normally be informed of changes in U.S. policy toward arming the Syrian Kurds, said they were unaware of any changes. The officials spoke on condition of anonymity.
It was unclear whether the Trump administration notified the Kurds of the move before telling the Turks. Nor was it how much significance the change would have on the ground, considering the fight against IS is almost over.
The United States has been arming the Kurds in their fight against IS through an umbrella group known as the Syrian Democratic Forces, or SDF, which is comprised of Kurdish as well as Arab fighters.
But the retreat of IS, which has lost nearly all its territory in Syria, has altered the dynamics in the region and a U.S. defense official said he was unaware of any additional arms scheduled to be transferred to the Kurds, even before the Turkish announcement.
Last week, Col. Ryan Dillon, the chief spokesman for the U.S. coalition that is fighting IS in Iraq and Syria, said there has yet to be any reduction in the number of U.S. advisers working with the SDF. His comments appeared to suggest the possibility that changes in the level and type of U.S. military support for the Syrian Kurds could be coming.
As the fight against IS has waned in recent months, the U.S. has pledged to carefully monitor the weapons it provides the Kurds, notably ensuring that they don't wind up in the hands of Kurdish insurgents in Turkey known as the PKK.
Both Turkey and the U.S. consider the PKK a terrorist group. But the United States has tried to draw a distinction between the PKK and the Syrian Kurds across the border, while Turkey insists they're essentially the same.
In both Syria and Iraq, the U.S. relied on Kurdish fighters to do much of the fighting against IS, but those efforts have yet to lead to a realization of the Kurds' broader aspirations, most notably an independent state.
Washington's support for the Syrian Kurds, in particular, has been a major thorn in U.S.-Turkish relations for several years, given Turkey's concerns about the Kurds' territorial aspirations. In particular, Turkey has feared the establishment of a contiguous, Kurdish-held canton in northern Syria that runs along the Turkish border.
Relations between NATO allies Turkey and the United States have also soured recently over a number of other issues, including Turkey's crackdown on dissent following a failed coup attempt last year.
Ankara has also demanded that the U.S. extradite a Pennsylvania-based cleric that it blames for fomenting the coup, but the U.S. says Turkey lacks sufficient proof.
Lederman reported from Washington. Associated Press writers Robert Burns and Zeke Miller in Washington contributed to this report.
Donald Trump didn't know what hit him
---
Now that Michael Flynn has begun negotiating a plea deal with Special Counsel Robert Mueller, one of the more curious questions has become what Donald Trump knew and when he knew it. Flynn is now going to take Trump down, no matter how the two men got to this point. But the details may help shed some light on how Trump can be counted on to respond going forward. As it turns out, Trump didn't know what hit him.
Here's how it usually works with these storylines: a major media outlet gets wind of what's going on and begins putting together a story. Along the way, that media outlet contacts the White House and asks Donald Trump for advance comment on the story. This at least partially tips Trump off about the story that's about to come out, and he tends to go on a Twitter tirade out of frustration and a desire to distract from the story that's about to get published. As it turns out, precisely none of that happened this time around.
After the New York Times first broke the story on Thursday evening that Flynn was negotiating a deal, the Washington Post followed up with more detail (
link
). As it turns out, Flynn's attorney notified Trump's attorney about the situation on Wednesday evening. This means that, as Rachel Maddow was reporting live on-air on Wednesday night about the defense fund Trump was setting up for his advisers, and Trump's attorney followed up with a statement making clear that Flynn would not be included, it was because he had just gotten word from Flynn's attorney that Flynn was going to flip.
So now we know that, while Donald Trump may or may not have instinctively had some sense of what was inevitably coming, he had no real advance warning that Michael Flynn was going to cut him off on Wednesday night and begin negotiating a deal. If Trump is acting shellshocked and increasingly unsure of himself, it's because he didn't know what hit him when the stunning blow landed.
Help fund Palmer Report:
Thanks for reading Palmer Report. Check out this great content:
We respect your privacy.

Bill Palmer is the publisher of the political news outlet Palmer Report
Tuomioja – Google Search
---
Finnish Historians: Former Finnish Foreign Minister An Operative of Russian intelligence
---
Professor and former ambassador, Alpo Rusi and the former party secretary of The Finnish Centre Party, author Jarmo Korhonen have published a new book titled "The Kremlin's Footsteps – Finlandization and Background of the Spying Scandal in 2002" (Kremlin jalanjälet – suomettuminen ja vuoden 2002 vakoilukohun tausta (Docendo 2017)). The book is available only in Finnish, but it cover issues of high international relevance.
"Tuomioja can be considered as an operative of Russian intelligence after the Zavidovo leak for his positions and openly stated Mareyev-connection," Rusi and Korhonen write in their book.
The name of the book refers to the "footprints" of Kremlin – two subjects investigated more closely are finlandization and the background of the spying scandal in 2002. The strong connections between both issues are closely examined inside the book.
Alpo Rusi – who is currently a professor at Vytautas Magnus University in Lithuania – became the focus of a Finnish spying scandal after leaving his post as an advisor to Finnish President Martti Ahtisaari (1994-2000). Alpo Rusi's brother, Jukka, had been in contact with the East German STASI during the Cold War and documents concerning Jukka Rusi – in which Alpo Rusi was marked as a possible future contact – were used to label him as a spy.
Book author, Alpo Rusi
The spying claims concerning Alpo Rusi were completely false, but the investigation process revealed many gaps in Finnish society and challenges of Finnish "Vergangenheitsbewältigung" [process of historical reconciliation] in general. What happened to Rusi and President Ahtisaari is almost a prototype of Russian-style active measures. While the investigation itself was kafkaesque, the details of contained inside the broader background can be found inside the byzantine politics which was created in the era of finlandization.
RETURN TO ZAVIDOVO
The book begins by explaining the so-called "Zavidovo Leak", which took place in the autumn of 1972. Finland was about to enter into an Association Agreement with the European Economic Community (similar to the Ukraine-EU agreement Viktor Yanukovych refused to sign), which many Finnish left-wing politicians openly opposed. Some considered the agreement as a "back-door" to NATO, despite the fact that the provisions concentrated strictly on trade issues and Finland had signed a similar, earlier agreement with the Eastern Bloc countries.
In 1972, President Urho Kekkonen discussed an association agreement with the Soviets in Zavidovo. Leonid Brezhnev expressed his suspicions, but Kekkonen tried his best to convince him that the policy of "neutrality" (which was actually quite heavily Soviet-leaning in the case of Finland) would remain.
Kekkonen wrote a memorandum about his meeting with Brezhnev, and Soviet objections Finland's EEC Association Agreement. The status of the memo was top secret, but somehow Erkki Tuomioja, then an MP representing the left-wing faction of the Social Democrats, managed to obtain information about the memo and leaked it to Tor Högnäs, a Swedish-speaking journalist usually seen politically as pro-Kekkonen and anti-social democrat. The publication of the high level Soviet opposition to the Finnish-EEC agreement was very likely meant to destroy the entire EEC-process and even Kekkonen's presidency.
According to Suomen Kuvalehti, the selection of Högnäs to publish the leak, was a great cover operation for Tuomioja and his left-wing comrades, who were able to make Kekkonen believe that foreign minister Ahti Karjalainen was resposible for it. According to the authors of the book, the unofficial working group responsible for the selection of Högnäs consisted of Antero Jyränki, Bo Ahlfors, Erkki Tuomioja, Jaakko Kalela and Jaakko Blomberg.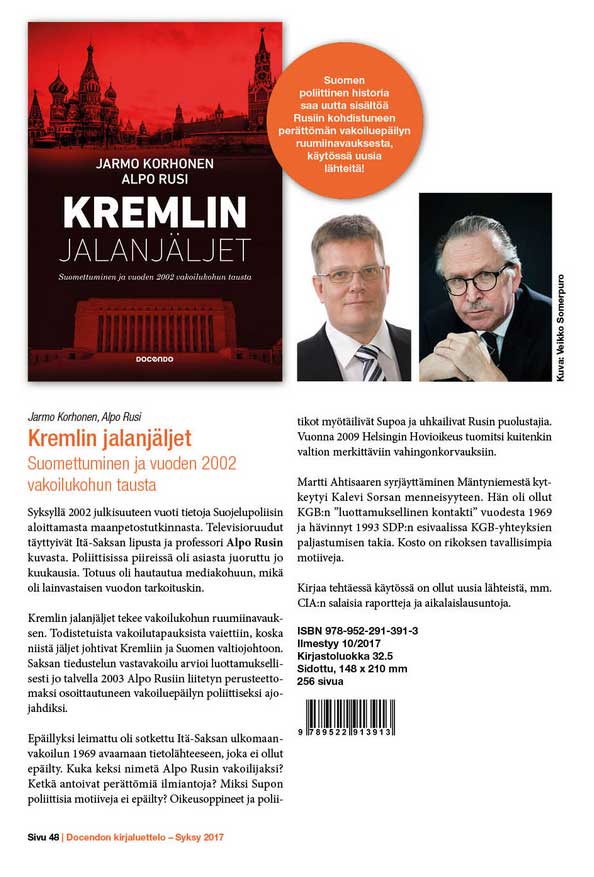 Kalela and Blomberg belonged to the authors' collective called Y. Y. Antonen, by which name a column arguing for the necessity of the leak was published in Ydin magazine. The founder of the collective, Kari Tapiola, worked as a secretary for Kalevi Sorsa (a left-wing social democrat with close KGB-connection) whom the memorandum was delivered to in the first place because of his post as minister. Tapiola was able to see all the secret information by Sorsa's permission.
Kalela and Blomberg made impressive careers as civil servants – Blomberg in the Foreing Ministery and Kalela in the Office of the President. During Tarja Halonen's presidency, both acted as Ambassadors to Estonia. Kari Tapiola further built his career in the service of international labour organizations. His son, Pirkka Tapiola advises the European External Action Service leadership on Eastern Europe, and more broadly on issues related to democracy and transition.
In his book "Kukkaisvallasta kekkosvaltaan" (Tammi 1993) Tuomioja admitted that he committed the leak but didn't reveal his own source(s). He probably believed that criminal responsibility won't reach him anymore for it and that it couldn't be considered as aggravated treason. However, he did not reveal where he got them information from.
However, presuming that Soviet intelligence – which was closely connected to the anti-EEC social democrats – knew who the leaker was all along, it leaves little room for speculation whether Tuomioja was under the threat of potential blackmail.
Maybe because of his personal animosity towards Kalevi Sorsa, Tuomioja supported Ahtisaari's presidency in the 1994 election. He even acted as a chairman of Ahtisaari's support group. In September of 1993 Tuomioja wrote in his diary that his former "home Russian" (personal KGB-officer) Valery Mareyev invited him for a lunch, which shows that contact with the Russian embassy continued.
Rusi shows in his book that like former president Mauno Koivisto, Tuomioja was also reluctant to stand up against Serbian dictator Slobodan Milosevic.
Tuomioja was named as Minister of Foreign Affairs in 2000. Rusi shows in his book that like former president Mauno Koivisto, Tuomioja was also reluctant to stand up against Serbian dictator Slobodan Milosevic. When the negotiation process for the Lisbon Treaty took place, Tuomioja's role in downplaying the security guarantee based on EU membership was significant. "Not a specially meritious stateman's act", historian Jukka Tarkka has stated.
When The European Union made  decision to place sanctions against Russia in 2014, Tuomioja expressed his dissenting opinion in the governmental committee. He hoped that Finland would leave an option to oppose the sanctions if a ceasefire held, no matter how other EU countries acted.
After leaving his post as Foreign Minister, Tuomioja has paid private visits to Russian Foreign Minister Sergey Lavrov and chaired a network called Historians Without Borders.
"Tuomioja can be considered as an operative of Russian intelligence after the Zavidovo leak for his positions and openly stated Mareyev-connection", Rusi and Korhonen write in their book.
A recent UpNorth article analyzed some of the correspondence and relationship between Tuomioja and pro-Russian adjunct professor Johan Bäckman.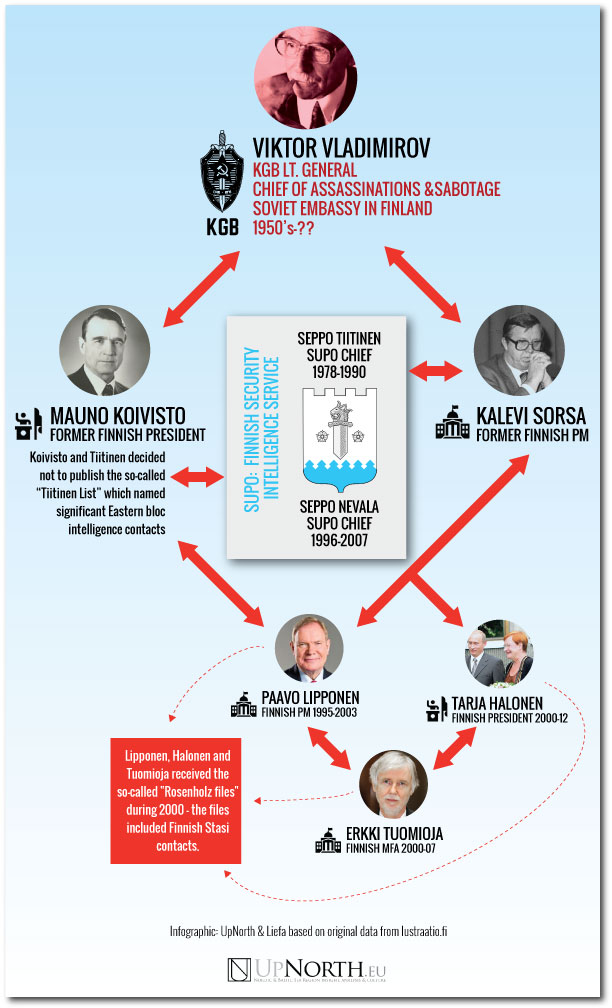 Historial connecitons between the KGB and Finnish Political Leadership
FSB, SUPO AND THEIR NETWORKS
The Finnish Security Police, SUPO, was penetrated by the KGB during the Cold War. According to Vasily Mitrokhin's archives, its chief Arvo Pentti was recruited as an agent by the code name "Mauri" and rewarded by 150 000 Finnish marks.
His successor Seppo Tiitinen held the post 1978-1990. In 1992 he was named Secretary General in the Finnish parliament from which post he retired in 2015. According to the authors of the book, British intelligence warned that Russian intelligence could blackmail Mr. Tiitinen.
According to Rusi and Korhonen, not only the influential Western intelligence community, but Estonia's Internal Security, KAPO had also delivered warnings about the KGB's and its successors' influence on SUPO.
SUPO seems to have ignored this even in the most obvious spying cases (for example in the case of Jaakko Laakso and President Tarja Halonen's strategist Riitta Juntunen, who was recruited as a STASI agent), which raises many questions. When the latter case was raised publicly, SUPO was led by Seppo Nevala, Kalevi Sorsa's former secretary (as then President Tarja Halonen and Prime Minister Paavo Lipponen were).
Last year, Suomen Sotilas published a memorandum concerning Nevala's nomination as the deputy chief of SUPO which took place when Tiitinen (with his Center Party background) was nominated as the chief. The memorandum includes detailed information about how Nevala used alcohol in an inappropriate way and has some challenging personality traits. It's also mentioned that Nevala is formally unqualified for the position, but whether these facts have enough correlation with the other nomination – probably referring to Tiitinen – the writer of the memo doesn't believe Nevala's nomination will be cancelled either.
It looks like two Finnish Presidents actively worked to keep the list that included 18 people associated with the STASI, secret. This Tiitinen/Hassinen list (Raino Hassinen worked in Ahtisaari's office as an advisor) was ignored by both Mauno Koivisto (1990) and Martti Ahtisaari (1999). According to Rusi and Korhonen, Kalevi Sorsa and many top officials of the Finnish Foreign Ministery were on the list. When the list was evaluated in Ahtisaari's office, the President himself, Chief of Staff Jaakko Kalela and Hassinen were present.
Although Ahtisaari was in principle pro-western and relatively independent from party politics, he was elected to his post as a candidate of the Social Democrats. Also his career in the Foreign Ministry begun by Sorsa's recommendation. The "spying scandal" constructed around Alpo Rusi – who was independent from the Social Democratic background forces – was needed to cover the real Eastern intelligence influence in Finland.
The distrust between the President and his advisor was also provoked with rumours about the latter having inappropriate contact with the Russians during the Balkan peace process. It's commonly known that the erosion of trust and confidence between politicians and their closest advisors – and people in general – is one of the basic tactics of the KGB and its successors. Many of of those who acted behind the scenes during the Zavidovo leak – such as Kalela and Tuomioja – were now active inside or near the President's office.
However, the President of the United States Bill Clinton expressed his special thanks to Rusi after peace was achieved and Ahtisaari's advisor was responsible for organizing the summit of Sarajevo in 1999.
It is likely that Ahtisaari himself – later rewarded with Nobel Peace Prize – felt somehow threatened. Jussi Lähde, who had worked as communications manager of the President, has said that he received a call from London in summer 1999. The caller offered a significant amount of money in exchange for compromising information about Ahtisaari.
 WHAT HAPPENED TO  RENÉ NYBERG?
Paavo Lipponen, the long-serving prime minister who started his political career as Kalevi Sorsa's secretary and international secretary of the Social Democrats, strongly opposed publication of the so-called Tiitinen's list and the opening of the archives concerning the STASI's activities in Finland. In his famous column, he imagined how a guillotine would be constructed in central Helsinki and "hippies" marched to kick the bodies after the heads had been removed. In Lipponen's vision, Alpo Rusi would sign the doors and graves of the suspects.
Rusi's book "Vasemmalta ohi – kamppailu Suomen ulkopoliittisesta johtajuudesta rautaesiripun varjossa 1945-1990" (Gummerus) was published in the same year. In that book, he revealed many details about the STASI contacts with Finnish politicians – 'especially Social Democrats'.
In 2008, Lipponen announced that he signed an agreement with Nord Stream AG for consulting services. This job has paid him many hundreds of thousands euros. Also his former secretary Antton Rönnholm – now acting as party secretary of the Social Democrats – and many other associates have worked for Russian gas interests. Nord Stream AG is led by former STASI agent Matthias Warnig.
Already in 1998, then prime minister Lipponen's advisor Timo Pesonen spread rumours that "SUPO is following Rusi and Nyberg". Somehow, the information was widely spread although Rusi himself was not made aware of it.
We now know that Rusi withstood the scandal and has since been proven innocent. But what was the case with Nyberg?
After his diplomatic career in Moscow and Berlin, René Nyberg (whom Pesonen likely referred to) founded a consulting company called East Office. The company claims to specialize in building Finnish companies' relations with Russia. Its board is led by former Center Party Prime Minister Esko Aho, who was also invited to join the board of the Kremlin owned Sberbank last year.
When Nyberg published his book "Viimeinen juna Moskovaan" (Siltala 2014) Lipponen praised it.
Recently, a retired ambassador Hannu Himanen recommended Nato-membership for Finland in his book Länttä vai itää – Suomi ja geopolitiikan paluu (Docendo 2017). Nyberg soon claimed in Helsingin Sanomat that Himanen's book was unethical.
WILL ANYTHING CHANGE?
The  new book by Rusi and Korhonen includes some very important historical puzzle pieces about recent Finnish history and Eastern intelligence operations here. At the same time, it provides another example of the methods the Kremlin and its operatives are willing to use to achieve their geopolitical goals and discredit those who may threaten their impelialistc goals of securing "spheres of influence".
During the last few month,s we have seen a flow of new – or at least recently organized – information regarding these issues. Historian Juho Ovaskainen has demonstrated in his book "Mauno Koiviston idänkortti" (Otava 2017) how Urho Kekkonen's successor used The Soviet Union to achieve his career goals. It is known that he was good friend of Viktor Vladimirov, a Soviet diplomat in Helsinki, who used to lead KGB's assasination department.
While the revelations may uncover further revelations, the old network is taking what it can. It is likely that when these old Soviet-based networks of influence lose their influence and importance, Russia may start to provide more support to the Western European style anti-establishment movements.
Recently, the Kremlin has given archival access to Kimmo Rentola, Timo Vihavainen, Ohto Manninen and Sergey Zhuravljov for historical research. Their book "Varjo Suomen yllä – Stalinin salaiset kansio"t (Docendo 2017) gives perspective to policies of the Soviet Union in relation to Finland under Stalin's regime.
In 2014, professor Vihavainen received an Order of Friendship from Russian president Vladimir Putin. In 1990 he became known for his criticism toward finlandization, but now he is known as a strongly conservative "traditionalist". In June 2014 he said the Ukrainian Euromaidan was started by "a violent mob" and compared those protestors to the terrorist separatists in Eastern Ukraine. He has also attacked the idea of lustration in Finland, which has gained more vocal support lately (the youth arm of the National Coalition (Conservative) Party adopted publication of Tiitinen's list in its policy platform of 2017).
Professor Kimmo Rentola is a historian and former communist. He is the author of "Ratakatu 12" (WSOY 2009), a history book concerning and ordered by SUPO, then lead by Seppo Nevala. In 2016 he was elected to the board of Historians without Borders, organization founded by Erkki Tuomioja.
PERSONAL PRONOUNS
When asked about finlandization in 2009, Finnish-Estonian author Sofi Oksanen stated that if it was so normal, why can't we talk about it openly? She also recommended to start using personal pronouns in such evaluation.
When it comes to Russian intelligence activities in Finland (yet not equal to the term finlandization), Rusi and Korhonen have opened the Pandora's box. It will not be closed any time soon.
As he investigates Trump's aides, special counsel's record shows surprising flaws
---
When he was named special counsel in May, 
Robert S. Mueller III
 was hailed as the ideal lawman — deeply experienced, strait-laced and nonpartisan — to investigate whether 
President Trump
's campaign had helped with Russian meddling in the 2016 presidential election.
The accolades squared with Mueller's valor as a Marine rifle platoon commander in Vietnam and his integrity as a federal prosecutor, a senior 
Justice Department
 official and FBI director from 2001 to 2013, the longest tenure since J. Edgar Hoover. He was praised by former courtroom allies and opponents, and by 
Democrats
 and Republicans in Congress.
But at 73, Mueller's record also shows a man of fallible judgment who can be slow to alter his chosen course. At times, he has intimidated or provoked resentment among subordinates. And his tenacious yet linear approach to evaluating evidence led him to fumble the biggest U.S. terrorism investigation since 9/11.
Now, as he leads a sprawling investigation aimed at the White House, Mueller's prosecutorial discretion looms over the Trump presidency.
On what terms would Mueller offer immunity from prosecution to investigative targets? How broadly will he interpret his mandate to probe not only the 2016 campaign but also matters that "may arise directly from the investigation"?
Will he target Trump's sprawling family business and financial empire and the years before the developer ran for the White House?
::
Robert Swan Mueller III began life on an elite footing.
Raised in affluent suburbs west of Philadelphia, he attended the St. Paul's School in New Hampshire (classmates included future Secretary of State John F. Kerry), before majoring in politics at Princeton. He joined the Marines after graduation and was awarded Navy and Marine Corps medals in Vietnam, where he was shot in the thigh. He graduated from the University of Virginia School of Law in 1973.
Bored by a stint at a white-shoe San Francisco law firm, the jut-jawed Mueller switched to the U.S. attorney's office there in 1976. Colleagues say he typically arrived by 6:30 a.m., at times in his Marine-issue green raincoat. He played on the office softball team but was careful not to let down his guard while socializing.
"He'd join us, have one — and it was only one — and then his wife would arrive to pick him up," recalled a colleague.
---
Editor's Note
This article is based, in part, on interviews with more than two dozen lawyers and investigators who have worked with Mueller. Citing the sensitivity of the Russia investigation and potential repercussions, most spoke on the condition of anonymity. Mueller declined, through a spokesman, to comment.
---
Mueller also is remembered for a headline-grabbing case that ended in failure.
In 1979, the government lodged then-novel racketeering charges against 33 members of the Hells Angels motorcycle club. The indictments alleged bombings and murders as well as the manufacture and sale of illegal drugs. The defendants and their supporters were so feared that bulletproof glass was installed in court to shield the judge.
The first trial, of 18 defendants, ended with only five convictions. All were overturned on appeal.
Mueller, who led the U.S. attorney's special prosecutions unit, then took over the case. He dropped many of the charges, including against Ralph "Sonny" Barger, leader of the club's Oakland chapter, whose charismatic testimony had dominated the first trial.
Mueller led a team of four prosecutors in court when the second trial, with 11 defendants, began in October 1980. But after four months, the jury said it was deadlocked, and the judge declared a mistrial. Mueller decided not to ask for a retrial.
Richard B. Mazer, a defense lawyer at both trials, said the government was unable to prove the Hells Angels was a racketeering enterprise. Key prosecution witnesses, he said, seemed unreliable — especially those granted immunity to testify despite having committed violent crimes themselves.
"They made a mess of it," Mazer recalled. "It was an entirely snitch case. It depended entirely on the quality of snitches."
But Mazer and Alan Caplan, another defense lawyer, praised Mueller's straightforward handling of the case.
"We fought hard, but I can't conceivably say anything negative about him," Caplan said.
About a year after the case collapsed, a new U.S. attorney in San Francisco chose a prosecutor with more trial experience to head the office's criminal division, a post that Mueller had held for a year.
Mueller responded by transferring to the U.S. attorney's office in Boston. He prosecuted financial fraud, terrorism and public corruption cases for six years, and served as acting U.S. attorney from 1986 to 1987.
One case — involving a Soviet-bloc spy — gave Mueller an early window into U.S.-Russia intrigues.
At the direction of the Justice Department's internal security division, Mueller negotiated a plea agreement with an East German physicist named Alfred Zehle and his lawyer. In February 1985, Zehle admitted in court that he had conspired to deliver U.S. defense information to East German intelligence authorities.
Under the agreement, the judge sentenced Zehle only to the time he had served in jail after he was arrested at a scientific conference in Boston. Zehle, in turn, became a bargaining chip for a major spy swap.
"We ultimately got 25 of our people out, including their families," in a trade for Zehle and several other Soviet-bloc spies, recalled a U.S. official who was involved with the negotiations.
The successful June 1985 exchange helped pave the way, the official said, for a more significant exchange by Washington and Moscow.
In February 1986, officials again faced off for a trade on the so-called Bridge of Spies between East and West Germany. Among those escorted to freedom was Natan Sharansky, the celebrated Russian human rights activist who had served nine years in Soviet prisons.
As the Cold War ended, Mueller moved to "main Justice" in Washington. He easily won his first Senateconfirmation after President George H.W. Bush appointed him assistant U.S. attorney general, responsible for the criminal division.
Mueller oversaw investigations of Panamanian leader Manuel Noriega, the 1988 bombing of Pan Am Flight 103 over Lockerbie, Scotland, and 
Gambino crime family
 boss John Gotti, among other high-profile cases. But his tendency to command, rather than inspire, again came into sharp relief.
"He doesn't invite disagreement," said a former prosecutor who served under Mueller. "He's an order-giver."
He could be harsh on subordinates — sparking resentment when he referred privately to reassigning career lawyers as "moving the furniture."
::
In 1993, at age 50, Mueller decided to try private practice again, joining Hale and Dorr as a partner in Washington, representing corporate clients.
The money was better, but Muller was unfulfilled. After two years, he returned to government service — signing on as a homicide prosecutor in the District of Columbia. It was a time of mayhem in the nation's capital, made worse by the scourge of crack cocaine.
Mueller began working with a "cold case" squad, comprised of Metropolitan Police detectives and FBI agents, that sought to bring murderers to justice.
The squad sent applications for search warrants and subpoenas for Mueller's review before seeking a judge's approval. Unlike some prosecutors, Mueller "wouldn't automatically give a signature," recalled one of the investigators.
"He would ask, 'Have you done your work? Do you have your facts?' … He knew what he was asking was the way to make sure everything stood up" in court.
Building cases often entailed forging trust with victims, witnesses and suspects. Relating to both the sympathetic and the unsavory did not play to Mueller's strengths.
"He was a gruff guy, and a lot of times, there wasn't much warmth or ability to really build a bond or connect with a victim-witness," said the same investigator. "There's times when you've got to bond with the suspect to get what you need. His personality wasn't necessarily the best for that."
Nor was Mueller an easy fit with juries in Washington, especially in the freewheeling local Superior Court, where decorum is typically below what judges demand in U.S. District Court.
"In D.C. Superior Court, it's a bit like meatball surgery. It's a bit like a M.A.S.H. unit — it's the unexpected," said one of Mueller's former colleagues. "His strength was not as a M.A.S.H. unit trial lawyer."
Mueller, a registered Republican, moved back to San Francisco in 1998 after President Clinton appointed him U.S. attorney for the Northern District of California. In July 2001, President George W. Bush nominated him as FBI director, and he won unanimous Senate confirmation. Mueller asked the White House for a delay, however, so he could undergo treatment for prostate cancer.
His first day on the job was Sept. 4, 2001 — a week before hijacked airliners slammed into the World Trade Center, the Pentagon and a field in Pennsylvania in the worst terrorist attack in U.S. history.
At 7 a.m. Sept. 12, Mueller, then-Atty. Gen. 
John Ashcroft
 and other officials arrived for an emergency briefing at the FBI's operations center. The senior agent had been given an hour to prepare while investigators were still combing airline manifests and scouring crash sites.
When Mueller asked a rapid-fire series of questions, the agent replied that accurate information was not yet "established."
" 'I want answers, goddamn it!' " Mueller exploded, an official who was present recalled.
Mueller already was coming under siege from critics who questioned why the FBI had not prevented the 9/11 attacks. Fear spread of a "second wave" terrorist strike.
Mueller countered by announcing plans to reshape the FBI. Its first priority would be to prevent another terrorist attack — not conventional law enforcement.
The enormity of the FBI's challenge emerged within weeks.
A handful of letters, laced with powdered anthrax, killed five people and sickened 17 others. The government closed congressional office buildings, the Supreme Court and postal facilities as the country braced for further biological terrorism.
But Mueller's FBI struggled for nearly seven years to determine who was responsible — even as he personally managed the case from headquarters.
"The director was always the leader of the anthrax investigation, period," said Michael Mason, former head of the FBI's Washington Field Office.
The FBI focused on Steven Hatfill, a virologist at the U.S. Army's laboratories at Ft. Detrick, Md. In January 2003, Mueller assured Congressional leaders in a closed-door briefing that bloodhounds had traced anthrax from the attacks to Hatfill.
But Hatfill had no experience handling anthrax. Nor did he have access to anthrax stored at Ft. Detrick or elsewhere. Years later, the FBI would reject the bloodhound evidence as unreliable.
After media leaks fingered Hatfill, he sued the FBI and the Justice Department on privacy grounds. In June 2008, the government agreed to pay Hatfill about $5.8 million.
Two months later, on Aug. 6, Mueller summoned senior investigators and prosecutors on the anthrax case to his seventh-floor office. The FBI would hold a news conference that afternoon, and he wanted to recap the case's stunning denouement.
Bruce E. Ivins, an Army microbiologist at Ft. Detrick who specialized in handling anthrax, had committed suicide after his lawyers informed him he was about to be charged with murder for the letter attacks.
Evidence showed Ivins had created and held custody of a batch of anthrax traced by DNA to each of the killings. Ivins had spent hours alone in specially equipped labs just before each batch of letters was mailed.
Mueller let others hold the news conference. Some aides who met Mueller that day think he was reluctant to publicly address the missteps with Hatfill, the bloodhounds and the long delay in focusing on Ivins.
"I think he was personally embarrassed," said one. "I would assess him as someone that can't accept the fact that he screwed up."
::
At FBI headquarters, protecting the director from embarrassment was ingrained.
A case in point unfolded in 2011 — just as the Senate was considering 
President Obama
's request to extend Mueller's expiring term as FBI director by two years.
The FBI's Inspection Division, a unit that scrutinizes bureau operations, conducted a three-week examination of the Directorate of Intelligence, a unit that Mueller created to carry out the shift in preventing terrorism.
"They inspected it, and they wrote the inspection report and it said the whole thing's broken — set it on fire and start from scratch," said a former official familiar with the report. Another ex-official confirmed the account.
Mueller's top aides saw peril in following normal procedure — forwarding the report to the Justice Department's inspector general for possible follow-up action.
"It was, 'The director will get skewered. We've got to protect him, and we can't issue this,' " the former official recalled.
The aides kept the report in-house, the former official said, by tweaking its language.
"Anywhere it said, 'inspection,' they changed it to 'review.' And said this was a review, not an inspection, and therefore they didn't have to issue it to … the inspector general."
Two years later, Mueller — without citing the inspection — informed Congress that he had restructured the Directorate of Intelligence "to maximize organizational collaboration, identify and address emerging threats and more effectively integrate intelligence and operations within the FBI."
During his final months as FBI director, Mueller was again enlisted to help with a thorny matter in U.S.-Russia relations.
In the summer of 2013, the White House asked Mueller to negotiate the release from Russia of Edward Snowden, the former National Security Agency contractor who stole volumes of classified material on U.S. surveillance operations at home and abroad. Snowden had fled to Moscow after leaking the data to journalists.
Unlike the Cold War spy cases, the U.S. did not offer a trade. The Obama administration wanted Moscow to return Snowden as part of a diplomatic "reset," an ultimately unsuccessful effort to improve relations with Russia.
Lisa Monaco, the White House's Homeland Security advisor, tasked Mueller to talk to Alexander Bortnikov, head of Russia's internal security and counter-intelligence service, the FSB.
For at least a week, Mueller called Bortnikov's office, starting at 3 a.m. in Washington. Each time, the FBI director was turned aside without getting Bortnikov on the line.
"Mueller just kept calling over there, like begging to talk to the guy," said a former official. Instead, Snowden was granted asylum in Russia.
The unsuccessful outreach offered Mueller insight into Russian intelligence, who U.S. officials say helped hack and leak Democratic Party emails last year in an effort to undermine U.S. democracy and to help Trump's campaign.
Investigators and lawyers who have worked with Mueller say that his legacy as special counsel will depend, ultimately, on his resolve, his integrity and especially his judgment.
"If he believes somebody has committed a crime, he's going to do whatever he can to hold them accountable," said a former FBI colleague. "Trump's name or brand is not going to back down Mueller."
Finnish Historians: Former Finnish Foreign Minister An Operative of Russian intelligence – UpNorth
---