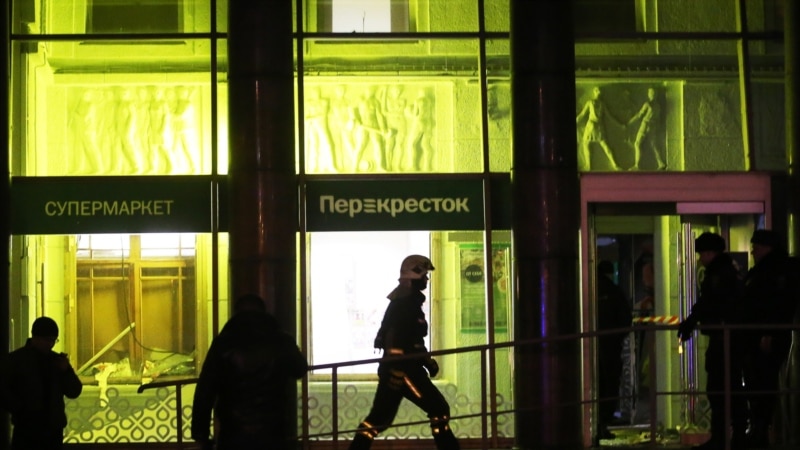 Update 11:18 AM 12/30/2017
ХРОНИКА ДНЯ – Настоящее Время: ФСБ: задержан предполагаемый организатор взрыва в Петербурге

Федеральная служба безопасности сообщила о задержании подозреваемого в организации взрыва в супермаркете "Перекресток" в Петербурге. Его уже допрашивают в Следственном комитете. "ФСБ РФ в ходе оперативно-разыскных мероприятий 30 декабря 2017 года установлен и задержан организатор и непосредственный исполнитель подрыва самодельного взрывного устройства, совершенного 27 декабря в торговом зале магазина "Перекресток" в городе Санкт-Петербурге", сказали в спецслужбе. Накануне группировка "Исламское государство" взяла на себя ответственность за взрыв в супермаркете "Перекресток" в Петербурге. Взрыв в супермаркете "Перекресток" произошёл вечером 27 декабря. Самодельное взрывное устройство, сработало в камере хранения. Его мощность оценили в 200 граммов в тротиловом эквиваленте. Пострадали 17 человек, 11 из них госпитализированы. Президент России Владимир Путин признал, что это был теракт. Следственный комитет возбудил уголовное дело по статье 30 и части 2 статьи 105 УК (покушение на убийство двух и более лиц общеопасным способом). Расследованием происшествия занимался Национальный антитеррористический комитет.

ХРОНИКА ДНЯ – Настоящее Время
Updates: 10:10 AM 12/30/2017

6:13 AM 12/28/2017 – The name of the supermarket, "Perekryostok" means "The Crossroads" and it is symbolic. The simplicity and the ease of the execution of this act are shocking… 
Also, note that the place of the "accident" is near the "Museum of the Soviet Epoch" at the "Gigant Kholl" – "The Hall of Giants", on the "Labaratornaya ulitsa" – the "Laboratory Street".
Are the Leftists-Antifas, and the Asian "guest workers" among the suspects? 
M.N. 

RadioFreeEurope/RadioLiberty
–
14 hours ago
Footage on social media shows multiple police vehicles, ambulances, and fire engines outside the Gigant Hall leisure center, where the supermarket is located on the ground floor. "There was a bang. Emergency personnel are already on the scene. The evacuation has been completed, and there was no …
TASS
The Perekrestok supermarket is located on the ground floor of the Gigant Hall leisure center, in the northwest part of St Petersburg. 'There was a bang. Emergency personnel are already on the scene. The evacuation has been completed, and there was no fire,' a local Emergencies Ministry official told news …
_____________________________________
See also:
Investigators are considering two possibilities — that the driver lost control of the busor that the bus malfunctioned, state media reported. "The driver was detained and the authorities instituted a criminal case citing the services falling short of security requirements and encroachments on the safety …