Mike Nova's Shared NewsLinks – Page | All Posts – The News And Times
All Posts – The News And Times from mikenova (13 sites)
mikenov on Twitter: Novichok assassin's former Russian army chief comes forward to admit he was military trained, but not for spy missions dailymail.co.uk/news/article-6… #salisburypoisoning #feedly
Novichok assassin's former Russian army chief comes forward to admit he was military trained, but not for spy missions 
dailymail.co.uk/news/article-6…
 #salisburypoisoning #feedly
---
mikenov on Twitter
mikenov on Twitter: Who is Salisbury Novichok poisoning suspect Ruslan Boshirov and is his real name Anatoliy Chepiga? thescottishsun.co.uk/news/3267547/w… #salisburypoisoning #feedly
mikenov on Twitter
mikenov on Twitter: Third suspect identified in Novichok poisoning of Skripals in Salisbury perthnow.com.au/news/europe/th… #salisburypoisoning #feedly
mikenov on Twitter
mikenov on Twitter: Mystery as the word 'Novichok' is scrawled on doors of Bristol café after Salisbury incidents bristolpost.co.uk/whats-on/food-… #salisburypoisoning #feedly
mikenov on Twitter
mikenov on Twitter: Russian spies were caught plotting to hack the lab analyzing the Salisbury Novichok samples news.vice.com/en_us/article/… #salisburypoisoning #feedly
Russian spies were caught plotting to hack the lab analyzing the Salisbury Novichok samples 
news.vice.com/en_us/article/…
 #salisburypoisoning #feedly
---
mikenov on Twitter
mikenov on Twitter: Salisbury Novichok 'hitmen' may have assassinated other targets across globe irishmirror.ie/news/world-new… #salisburypoisoning #feedly
mikenov on Twitter
mikenov on Twitter: Salisbury novichok suspect identified as highly decorated GRU colonel Anatoliy Chepiga independent.co.uk/news/uk/crime/… #salisburypoisoning #feedly
mikenov on Twitter
mikenov on Twitter: Salisbury Novichok poisoning: Threat from Russia is 'real' bbc.com/news/uk-454440… #salisburypoisoning #feedly
mikenov on Twitter
mikenov on Twitter: How could Russia's Spetsnaz bungle the Salisbury novichok poisoning? thetimes.co.uk/article/a-job-… #salisburypoisoning #feedly
mikenov on Twitter
mikenov on Twitter: Salisbury novichok attack: 'If you ever leave Russia, we will get you,' Sajid Javid tells assassins independent.co.uk/news/uk/crime/… #salisburypoisoning #feedly
mikenov on Twitter
mikenov on Twitter: Discussing Pushkin and other matters russia-news.org/2018/09/28/dis…
mikenov on Twitter
Mike Nova's Shared NewsLinks: Discussing Pushkin and other matters | Russia News
---
Mike Nova's Shared NewsLinks
mikenov on Twitter: Putin, Pushkin, psychohistory – Google Search google.com.pr/search?num=20&…
mikenov on Twitter
Mike Nova's Shared NewsLinks: The untold story: Why Stalin created a cult of Alexander Pushkin
---
In 1937, the year of the Great Terror, Stalin decided to celebrate Pushkin as a socialist god in order to build popular support for his regime. While the poet was revered as a literary genius before the Russian Revolution, the Soviets took his reputation to a whole new level, almost deifying him in a sort of cult.
The 100th anniversary of Pushkin's death, Moscow, 1937. Source: Archive Photo
A Soviet god
This year we mark not only the 100th anniversary of the 1917 Revolution, but also the 80th anniversary of the Great Terror in 1937. That year Soviet Russia also commemorated, on an unprecedented scale, the 100th anniversary of Alexander Pushkin's death. The great poet had hitherto remained in the shadows, but in 1937 he took a central place in the Soviet cultural pantheon.
In place of nationless Marxism that rejected culture, national spirit, traditional statehood, and spirituality, Stalin decided to present the world with an almost classical culture-centric empire that had Pushkin at its heart.
Snatching Pushkin from émigré circles
The decision to celebrate Pushkin as a socialist god belonged to Stalin. To fully appreciate how unconventional his initiative was, it's worth remembering that in the 19th century Pushkin was a poet known by only the intellectual elite. The reading list for the revolutionary intelligentsia did not include Pushkin because he was considered too distant and removed from the urgent needs of the people.
Stalin, however, was well-versed in classical Russian literature and was fond not only of the revolutionary Chernyshevsky, but also of Dostoevsky and Pushkin.
The decision to celebrate Pushkin was strongly influenced by the fact that starting from the mid-1920s the Russian diaspora abroad, which Soviet Russia was closely watching, developed a strong interest in Pushkin's works. Stalin himself subscribed to nearly all major publications by Russian émigré circles.
In 1937, the Russian émigré community was planning to hold their own events celebrating Pushkin, which meant that the poet's legacy could become a dangerous political weapon in their hands. So it was imperative to snatch this tool from the hands of the enemy! Such may have been Stalin's logic, though historians aren't sure.
Personality cult
Starting in 1922, annual official memorial services marked the anniversary of Pushkin's death where he was described as a "Russian spring, Russian morning, Russian Adam," and also compared to Dante, Petrarch, Shakespeare, Schiller, and Goethe.
Pushkin's cult was promoted on an unprecedented level. Preparations for the anniversary involved everyone – academics, writers, composers, politicians and public figures, publishing houses, cinema companies, theaters, factories, as well as collective and state farms. Every single person in the country was to know that Pushkin is great! Pushkin is sacred!
New monuments to Pushkin were unveiled in Leningrad, Kiev, Minsk, Tbilisi, and Yerevan. New streets, squares, schools, parks, subway stations, train stations, collective and state farms were either renamed after Pushkin or built in his honor. Artists painted giant canvases dedicated to Pushkin, composers wrote music singing his praises, and the leading theaters of Moscow and Leningrad competed in a race to make productions of Pushkin's works.

Stamps from the series "Alexander Pushkin's Death Centenary." Designed by artist Vasily Zavyalov. Source: Alexey Bushkin
Pushkin's name was exclaimed by loudspeakers and gramophones, streets and squares were decorated with his portraits, and posters and postcards were printed. Literally every school, factory, and collective farm throughout the country staged nearly identical exhibitions about Pushkin.
Hordes of fans
The total number of anniversary Pushkin publications exceeded 14 million copies. They were published in practically all languages spoken in the Soviet Union, including Assyrian, Buryat, Greek, Hebrew, Komi-Zyryan and many others.
Factories and collective farms suddenly saw hordes of enthusiastic fans and connoisseurs of the poet's works, and clubs of Pushkin lovers were formed. Artistic associations and master craftsmen, just like the icon painters of the past who created images of St. Nicholas for the people, flooded the country with hundreds of thousands of Pushkin statues, busts, and other visual reminders of his life.

Soviet poster marking the 100th anniversary of Pushkin's death, 1937. Source: Archive Photo
On Feb. 10, 1937, the very day of the anniversary, an official gathering was held at the Bolshoi Theatre in Moscow to mark the centenary of the death of Russia's greatest poet. The entire Communist Party elite, including Stalin, were present.
The event was broadcast to the nation, and at the opening Andrei Bubnov, the People's Commissar of Education and Chairman of the Pushkin Committee, exclaimed: "Pushkin is ours! It is only in a country of socialist culture that the name of the immortal genius is surrounded with ardent love; it is only in our country that Pushkin's works have become a treasure for all the people."
The glorification of Pushkin was complete, and the poet's cult established. In the words of the philosopher Antonio Gramsci, the cult of Pushkin "cemented the popular forces," uniting a multi-ethnic country in a common cultural space and thus becoming a most powerful imperial unifying force.
This is an abridged version of the original article published in Russian at Vzglyad.
If using any of Russia Beyond's content, partly or in full, always provide an active hyperlink to the original material.
Mike Nova's Shared NewsLinks
Mike Nova's Shared NewsLinks: Putin, Pushkin, psychohistory – Google Search
---
Mike Nova's Shared NewsLinks
Mike Nova's Shared NewsLinks: Putin, Pushkin, psychohistory – Google Search
---
Mike Nova's Shared NewsLinks
mikenov on Twitter: pushkin and psychohistory – Google Search google.com.pr/search?q=pushk…
mikenov on Twitter
Saved Stories – None: hapsburg group – Google News
Saved Stories – None
Saved Stories – None: "Boshirov" is probably not "Chepiga". But he is also not "Boshirov".
UPDATE: The Kommersant Evidence
Kommersant 
publishes interviews
 with people from Chepiga's home village. The article makes clear he has not been seen there for many years. It states that opinions differ on whether Chepiga is Boshirov. One woman says she recognised Boshirov as Chepiga when he appeared on TV, especially the dark eyes, though she had not seen him since school. Another woman states it is not Chepiga as when she last saw him ten years ago he was already pretty bald, and he has a more open face, although the eyes are similarly brown.
Naturally mainstream media journalists are tweeting and publishing the man's evidence and leaving out the woman's evidence.
But the Kommersant article gives them a bigger challenge. Kommersant is owned by close Putin political ally, Putin's former student flatmate, Chariman of Gazprominvestholdings and the UK's richest resident, Alisher Usmanov. That Russia's most authoritative paper, with ownership very close to Putin, is printing such open and honest reporting rather belies the "Russia is a dictatorship" narrative. And unlike the Guardian and BBC websites, on Kommersant website ordinary Russians can post freely their views on the case, and are.
One thing this does stand up is that Chepiga definitely exists.
The evidence mounts that Russia is not telling the truth about "Boshirov" and "Petrov". If those were real identities, they would have been substantiated in depth by now. As we know of Yulia Skripal's boyfriend, cat, cousin and grandmother, real depth on the lives and milieu of "Boshirov" and "Petrov" would be got out. It is plainly in the interests of Russia's state and its oligarchy to establish that they truly exist, and concern for the privacy of individuals would be outweighed by that. The rights of the individual are not prioritised over the state interest in Russia.
But equally the identification of "Boshirov" with "Colonel Chepiga" is a nonsense.
The problem is with 
Bellingcat's methodology
. They did not start with any prior intelligence that "Chepiga" is "Boshirov". They rather allegedly searched databases of GRU operatives of about the right age, then trawled photos in yearbooks of them until they found one that looked a bit like "Boshirov". And guess what? It looks a bit like "Boshirov". If you ignore the substantially different skull shape and nose.

Only the picture on the left is Chepiga. The two on the right are from "Boshirov's" Russian passport application file, and the photo of "Boshirov" issued by Scotland Yard.
Like almost the entire internet, I assumed both black and white photos were from Chepiga's files, and was willing to admit the identification of Chepiga with "Boshirov" as valid. But once you understand is that – as Bellingcat confirm if you read it closely – only the photo on the left is Chepiga, you start to ask questions.
The two guys on the right and the centre are undoubtedly the same person. But is the guy on the left the same, but younger?
<a href="http://Betaface.com" rel="nofollow">Betaface.com</a>, which runs industry standard software, gives the faces an 83% similarity, putting the probability of them being the same person at 2.8%.
By comparison it gives me a 72% identity with Chepiga and a 2.1% chance of being him.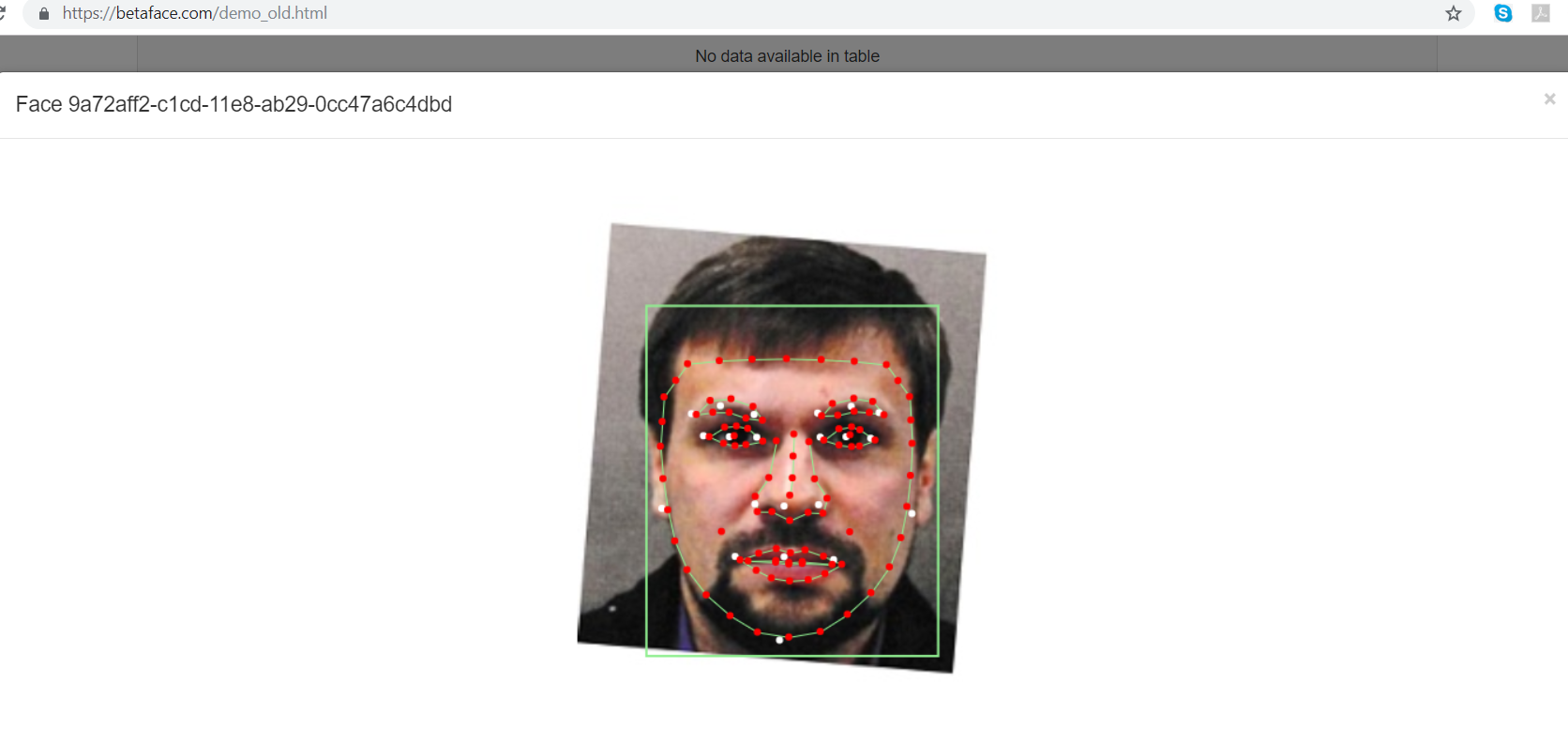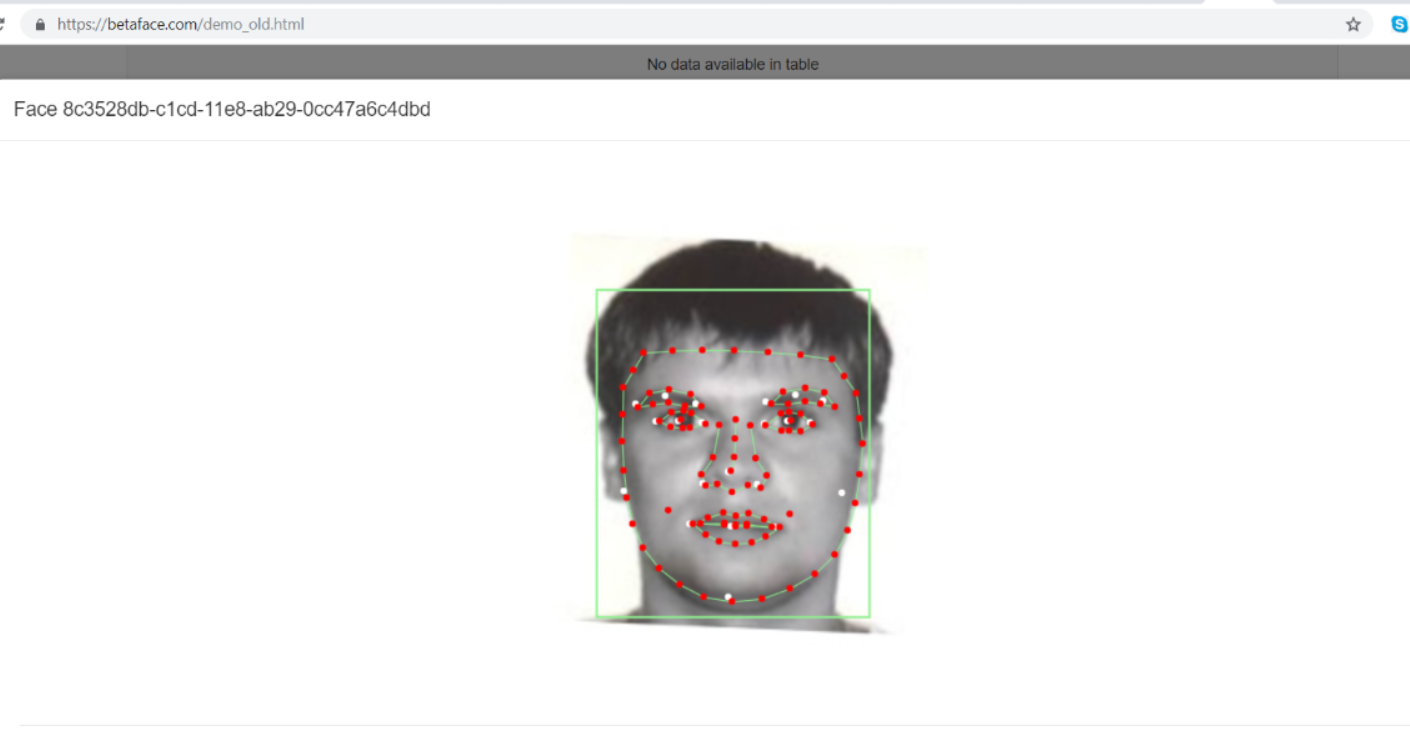 There is a superficial resemblance. But if you take the standard ratios used for facial recognition, you get a very different story. If you draw a line between the centre of the pupils of the two guys centre and right, and then take a perpendicular from that line to the tip of the nose, you get a key ratio. The two on the right both have a ratio of 100:75, which is unsurprising since they are the same person. The one on the left has a ratio of 100:68, which is very different.
To put that more simply, his nose is much shorter, and less certainly his eyes are further apart.
It is possible this could happen in photos but it still be the same person. The head would have to be tilted backward or forward at quite a sharp angle to alter these ratios, which does not seem to be the case. The camera could be positioned substantially above or below the subject, again not apparently the case. And the photo could be resized with height and width ratios changed. That would hard to detect.
But the three white dots across the bottom of the nose are particularly compelling (the middle one largely obscured by a red dot in the Chepiga photo). They illustrate that Chepiga has a snub nose and Boshirov something of a hook. Again, the software is reinforcing what they eye can plainly see.
However, there are also other ratios that are different. Chepiga has a narrower mouth compared to the distance between the pupils than the two photos of "Boshirov", and that is measured on the same plane. The difference is 100-80 compared to 100-88. It is a ratio that can be changed by facial expression, but this does not seem to be the case here.
Professor Dame Sue Black of the University of Dundee is the world's leading expert in facial forensic reconstruction. I once spent a fascinating lunch sitting next to her, while I was Rector. I shall contact her for her view on whether the guy on the left is the same person, and if she is kind enough to give me an opinion, I shall pass it on to you unadulterated.
This website is less definitive, but gives a nice clear result, and you can repeat it yourself without having to subscribe (unlike <a href="http://Betaface.com" rel="nofollow">Betaface.com</a>).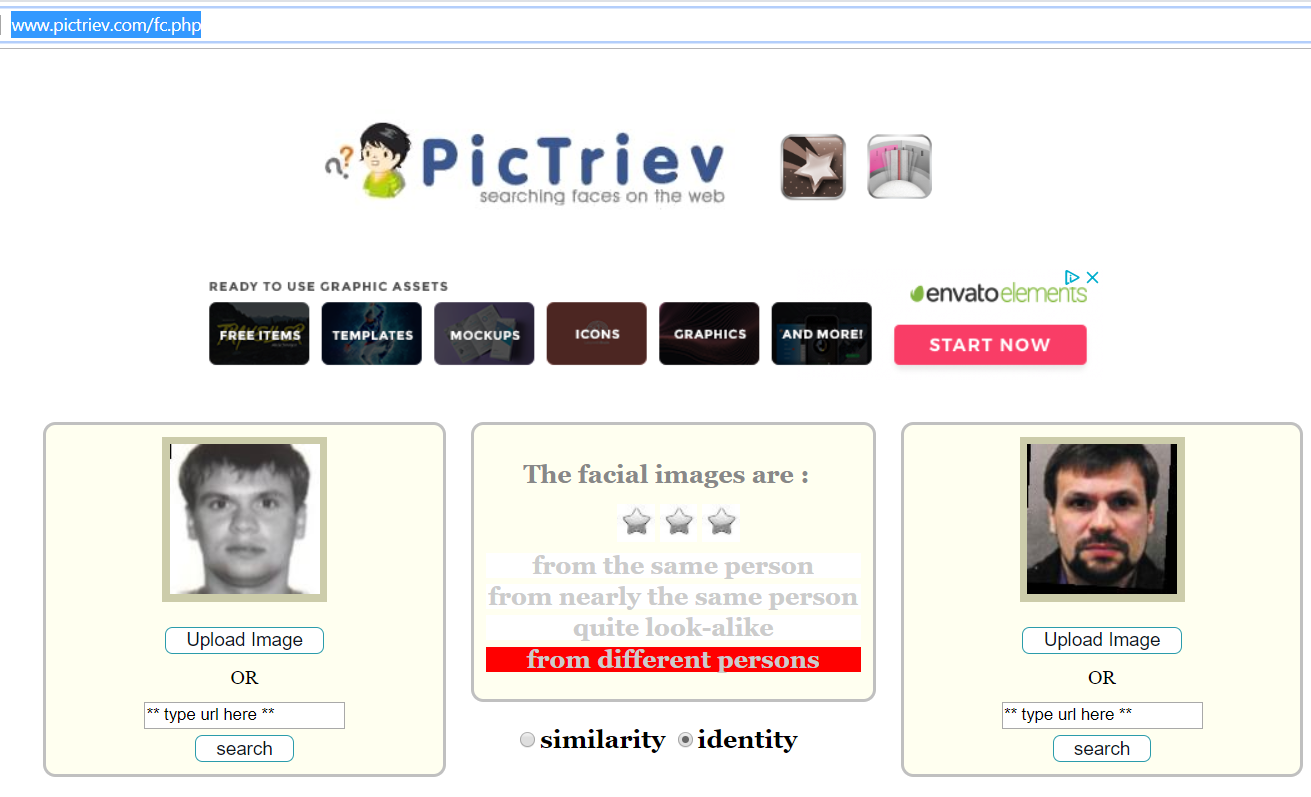 Again for comparison, I tried two photos of myself 12 years apart and got "from nearly the same person".
It is worth repeating that the only evidence that Chepiga is Boshirov offered by Bellingcat is this photo. The rest of their article simply attempts to establish Chepiga's career.
This is gross hypocrisy by Bellingcat, who have argued that scores of photos of White Helmets being Jihadi fighters are not valid evidence because you cannot safely recognise faces from photographs.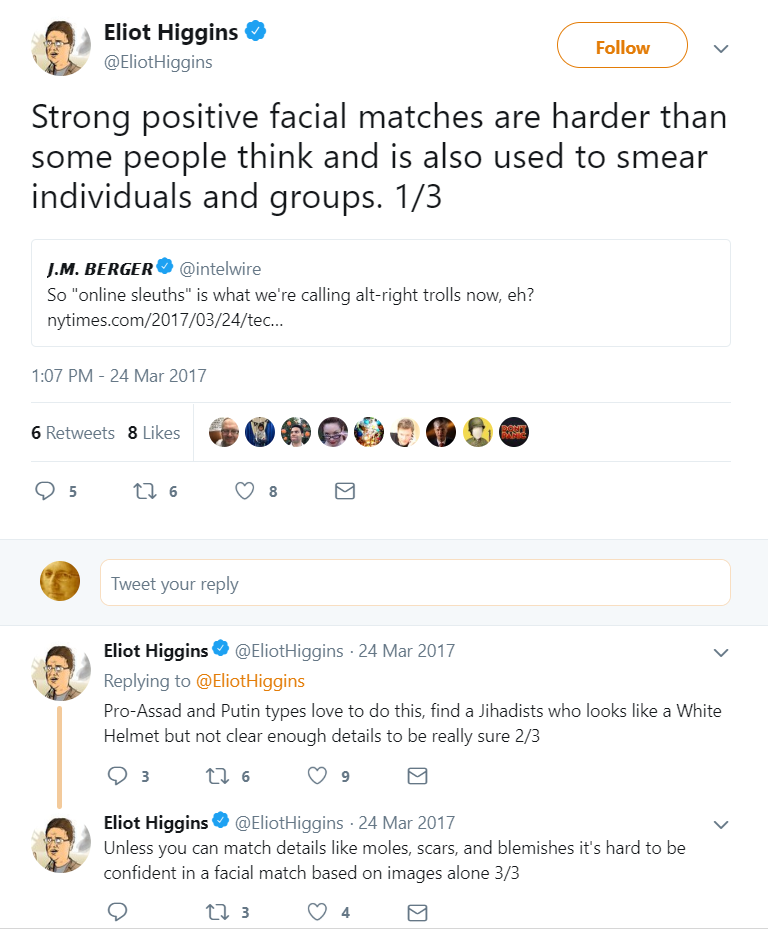 Yet Higgins now claims his facial identification of Chepiga as Boshirov as "definitive" and "conclusive", despite the absence of moles, scars and blemishes. Higgins stands exposed as a quite disgusting hypocrite. Let me go further. I do not believe that Higgins did not take the elementary step of running facial recognition technology over the photos, and I believe he is hiding the results from you. Is it not also astonishing that the mainstream media have not done this simple test?
The bulk of the Bellingcat article is just trying to prove the reality of the existence of Chepiga. This is hard to evaluate, but as the evidence to link him to "Boshirov" is non-existent, is a different argument. Having set out to find a GRU officer of the same age who looks a bit like "Boshirov", they trumpet repeatedly the fact that Chepiga is about the same age as evidence, in a crass display of circular argument.
This 
unofficial website
 does indeed name Chepiga as a Hero of the Russian Federation and recipient of 20 awards, as Bellingcat claims. But it is impossible to know if it is authentic, and by contrast there is no Chepiga on the 
official list
 of Heroes of the Russian Federation, for the stated 2014 or for any other year, which Bellingcat fail to mention. Their other documents and anonymous sources are unverifiable.
The photo of the military school honours arch, with Chepiga added right at the end and not quite in line, looks to me very suspect. My surmise so far would be that most likely Bellingcat's source of supply is Ukrainian, and trying to tie the Skripal affair into the Ukrainian civil war via Chepiga.
My view of the most likely explanation on presently available evidence is this:
Boshirov is not Boshirov, and the Russian Government are lying.
Boshirov is not Chepiga, and Bellingcat are lying.
The whole Skripal novichok story still does not hang together, and the British government are lying.
I will continue to form my opinions as further evidence becomes available.
UPDATE Incredibly, at 13.15 on 27 September the BBC TV News ran the story showing only the two photos of "Boshirov", which of course are the same person, and not showing the photo of Chepiga at all!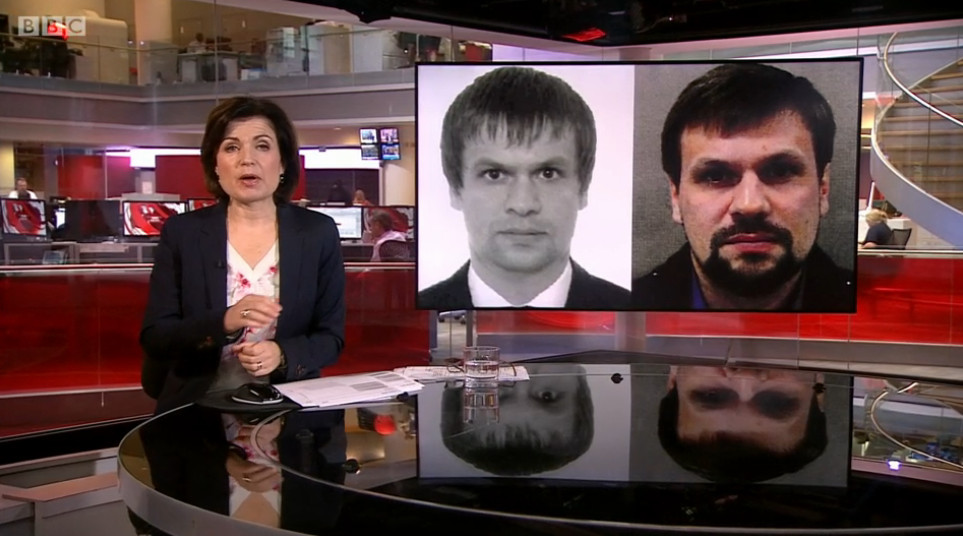 BBC News at One
Saved Stories – None
Saved Stories – None: boshirov – Google Search
RUSLAN Boshirov is one of the men suspected of poisoning Sergei Skripal – but what is his real name? Here we reveal his true identity, what …
Saved Stories – None
Saved Stories – None: boshirov – Google Search
Saved Stories – None