(JTA) — Hebrew College will begin admitting and ordaining rabbinical students in interfaith relationships, according to new admissions standards revealed on Tuesday.
The decision makes the pluralistic seminary outside of Boston the second major rabbinical school in the United States to do away with rules barring students from dating or marrying non-Jews. The Reconstructionist Rabbinical Seminary was the first to do so in 2015.
Hebrew College's decision comes amid an increasingly competitive marketplace for rabbinical students and after decades of rising rates of intermarriage by American Jews.
Rabbi Sharon Cohen Anisfeld, Hebrew College's president, announced the policy change in an email to students and graduates on Tuesday evening. She said the decision, which followed a year and a half of review, came amid a broad revision of the seminary's "guiding principles for admission and ordination."
Those new guiding principles were published on the admissions page of Hebrew College's website late Tuesday, replacing different language that had included the partner policy. "We do not admit or ordain rabbinical students with non-Jewish partners," the page had previously said, adding that applicants whose partners were in the process of converting would be considered.
"This is a really exciting moment for Jewish communities everywhere," said Jodi Bromberg, the CEO of 18Doors, a nonprofit that supports interfaith families. "We all will get to benefit from Jewish leaders in interfaith relationships who have been sidelined from major seminaries up to now."
Hebrew College has set aside time on Wednesday for its roughly 80 rabbinical students and others to process their reactions about the change, which Anisfeld had previously said she expected to be intense no matter the decision. She declined to comment late Tuesday, saying that she was focused on communication with members of her community.
"This has not been a simple process and, in addition to the strong feelings raised by the policy itself, there have been complex feelings about various stages of the process we've undertaken over the past year," Anisfeld wrote in a message to students in October, in a series of emails obtained by the Jewish Telegraphic Agency.
Hebrew College's policy change reflects a longstanding and sometimes painful dynamic in American Jewish life: While an estimated three-quarters of non-Orthodox Jews who marry do so to non-Jews, few traditional rabbinical schools have been willing to train or ordain rabbis in interfaith relationships. Their policies are rooted in Jewish law, known as halacha, which prohibits marriages between Jews and non-Jews. But they also reflect widespread anxiety among American Jews over whether high rates of intermarriage threaten the future of Judaism, and whether rabbis must model traditional practices in their families.
At Hebrew College, which launched its rabbinical school 20 years ago, the prohibition against interfaith relationships had been the only admissions requirement rooted in Jewish law beyond the rule that applicants must be considered Jewish according to at least one Jewish movement. There was no requirement that rabbinical students keep kosher or observe Shabbat.
When the school's leadership first solicited feedback from students a year ago, several took aim at what they said was hypocrisy in the approach to Jewish law.
"This is the one area of students' halachic life where I am acutely aware that the school does not trust us, does not think we are capable of navigating our own personal lives, and does not believe that the choices we may make for ourselves have the capacity to expand and enrich our Jewish practice," wrote one student, according to a collection of anonymous comments shared among students at the time.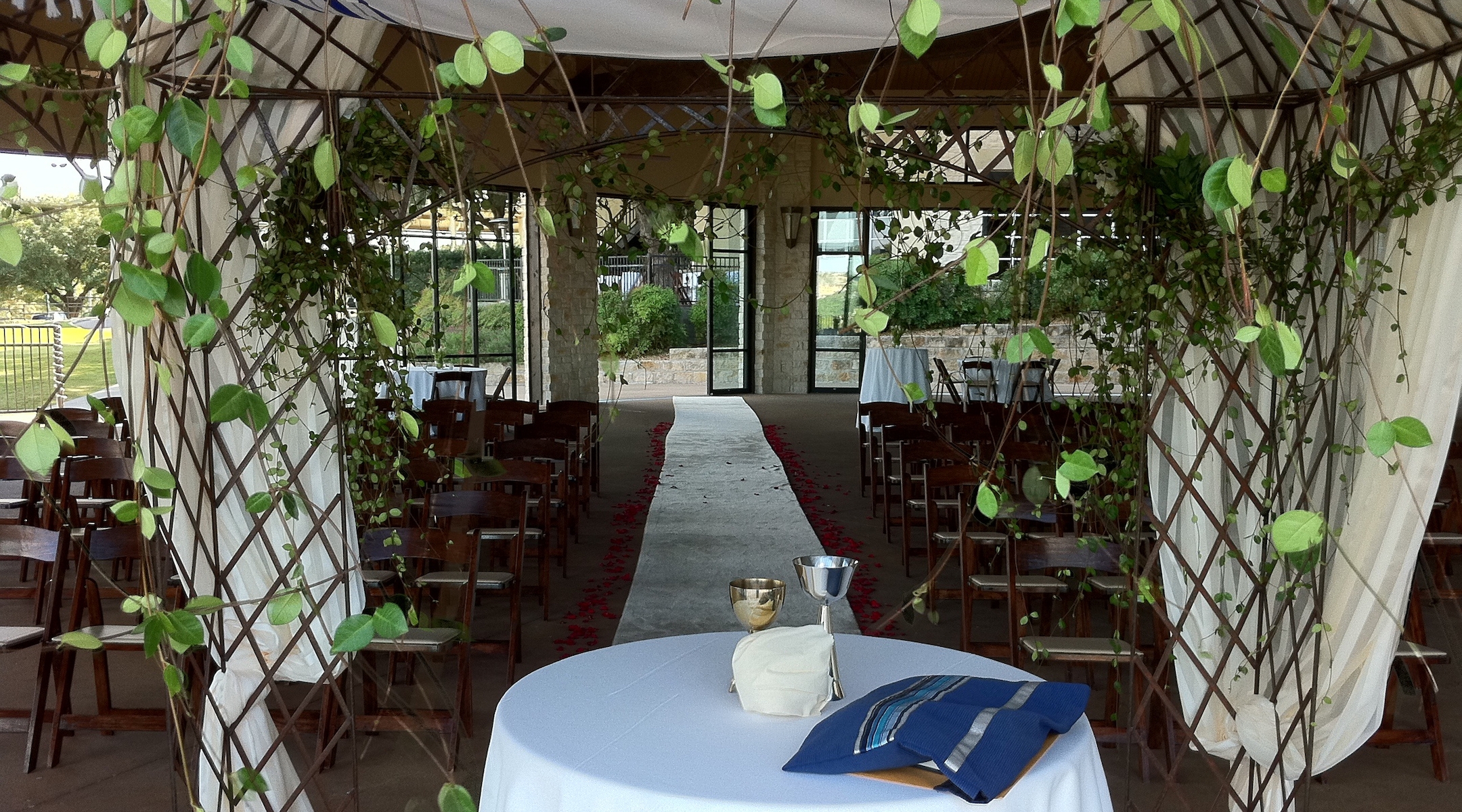 A chuppah at a Jewish wedding. More than 60% of American Jews who have married in the last decade have done so to non-Jewish partners, according to a 2021 study from the Pew Research Center. That proportion rises to nearly 75% for non-Orthodox American Jews. (Scott Rocher via Flickr Commons)
Image by
Most of the 15 comments that students and graduates shared with their peers called for doing away with the ban on interfaith student relationships, often citing the benefits of having Hebrew College-ordained rabbis reflect the families they are likely to serve.
"We should be training rabbis for the Jewish community that exists and that we want to cultivate, not the one we wish existed or that existed in the past," one student wrote. "Having intermarried rabbis could do a lot of good: perhaps having role models for a fulfilling, active, intermarried Jewish can help people feel welcomed, not just grudgingly tolerated after the fact — and can increase the likelihood that those intermarried couples want to raise Jewish children."
Several students and graduates wrote that the policy as it stood incentivized students to obscure their relationships, denying them dignity and preventing their mentors and teachers from fully supporting them. Several suggested that prohibiting students in interfaith partnerships could have a disproportionate effect on queer Jews and Jews of color.
At least one person argued against changing the policy, instead suggesting that the school strengthen enforcement and clarify expectations about other Jewish practices and values.
"By changing the policy Hebrew College is sending the message to the Jewish world that love-based marriages are more sacred than the covenant with which we made at Sinai," that student wrote, referring to the moment in Jewish tradition when God first spoke to the Israelites. "However, by not changing the policy Hebrew College is affirming that students learn the art of lying. Therefore, my suggestion is to keep the policy but change the ethics on how it is enforced."
Those comments followed a two-day workshop, facilitated by experts in conflict resolution, about the policy a year ago. The experience was challenging for many of those in attendance, according to the student comments.
"The pain of the need to hide was on full display during Winter Seminar, and I found myself wondering if I could remain in a community whose first response was anything other than to seek healing for the hurt that the policy has inflicted," one wrote at the time.
With tensions high, an initial deadline to decide about whether to keep the policy came and went last June. In late October, Anisfeld wrote to students with an update. A special committee including both rabbinic and academic faculty members had been meeting regularly since July, she said, and would be presenting their recommendation by the end of January.
Last week, she said in her message to students and graduates on Tuesday, Hebrew College's board approved the policy change and admissions principles revisions.
The decision could renew pressure on other rabbinical schools amid steep competition for students. Several non-traditional rabbinical schools that do not have a requirement about the identities of students' spouses have grown in recent years, while Hebrew College; the Reform movement's Hebrew Union College; and the Jewish Theological Seminary and the Ziegler School of Rabbinic Studies in the Conservative movement all shrunk. Hebrew College recently completed a move to a shared campus after selling its building under financial duress.
"We continue to hear from folks who want to be rabbis and up until this moment had really limited choices," said Bromberg. "I can't help but think that this will have a really positive impact on the enrollment in Hebrew College's rabbinic program."
The pressure could be especially acute for Hebrew Union College, the Reform seminary with three campuses in the United States. (Because of declining enrollment, the school is phasing out its Cincinnati program.) HUC does not admit students in interfaith relationships, even though the Reform movement permits its rabbis to officiate at intermarriages and to be intermarried themselves.
That policy, which the movement reaffirmed after extensive debate in 2014, has drawn resentment and scorn from some who say it is the only thing holding them back from pursuing Reform ordination.
"All my life, my community had told me that no matter who you are or who you love, you are equal in our community and according to the Divine. But now it feels like I've been betrayed, lied to, misled," Ezra Samuels, an aspiring rabbinical student in a queer relationship with a non-Jewish man, wrote on Hey Alma in 2020, expanding on a viral Twitter thread.
But even the Conservative movement, which bars rabbis from officiating at intermarriages and only recently began permitting members of its rabbinical association to attend intermarriages, is grappling openly with how to balance Jewish law and tradition against the reality around interfaith relationships.
The movement recently held a series of online meetings for members of its Rabbinical Assembly to discuss intermarriage, sparking rumors that the movement could be headed toward policy changes. That's not the case, according to movement leaders — though they say other shifts may be needed.
"There are no proposals at present to change our standard," said Rabbi Jacob Blumenthal, the CEO of the RA and United Synagogue of Conservative Judaism, the movement's congregational arm. "But there is a conversation about what are the ways that we can provide more pastoral guidance to colleagues, especially around moments of marriage."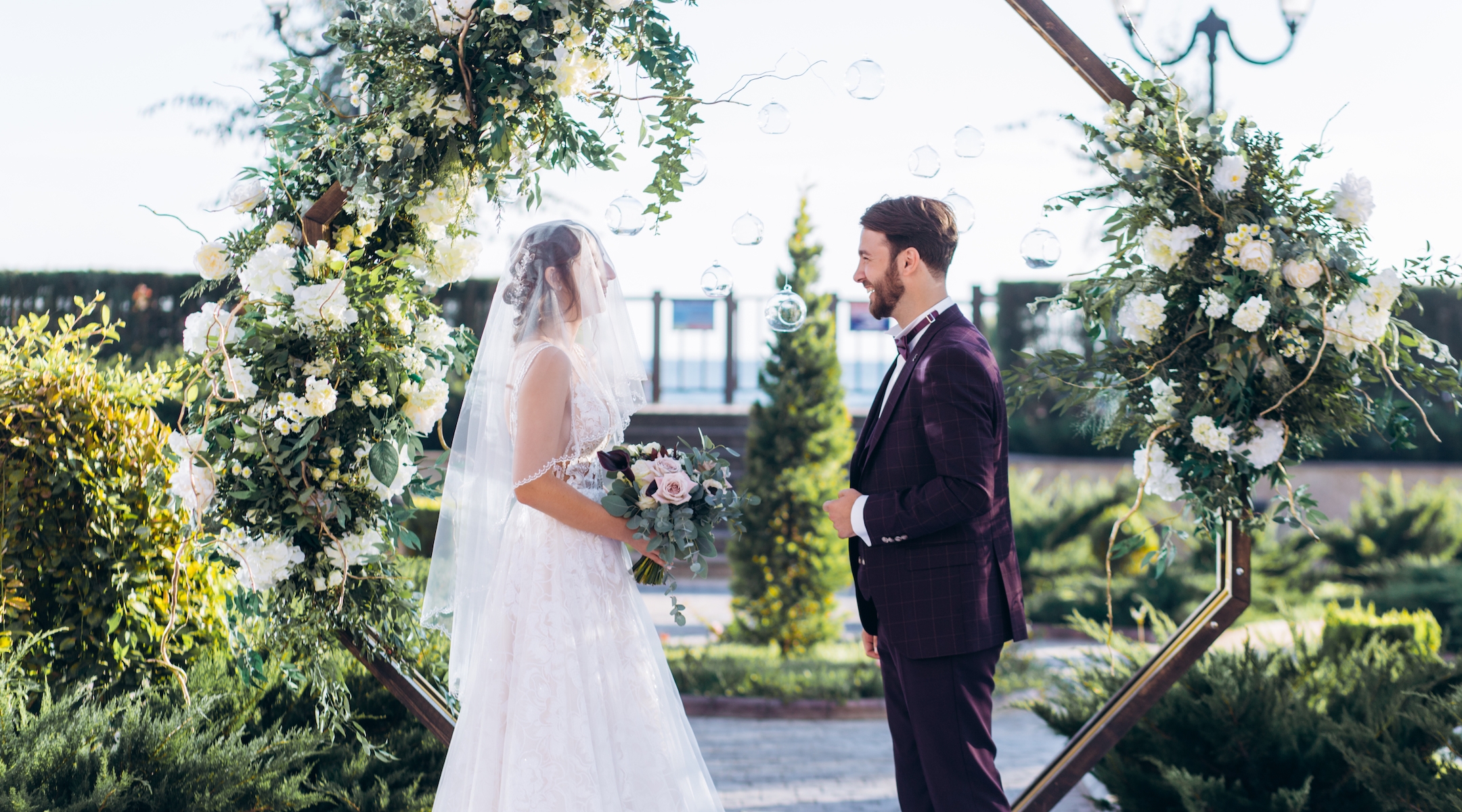 The Pew study found new high rates of intermarriage in the Jewish community. (iStock/Getty Images)
Image by
Keren McGinity, the USCJ's interfaith specialist, previously directed the Interfaith Families Engagement Program, a now-defunct part of Hebrew College's education school. She declined to comment on the internal conversations underway within the Conservative movement. But in 2015, she argued in an op-ed that the Jewish world would benefit from more rabbis who were intermarried.
"Seeing rabbis — who have committed their careers, indeed their lives to Judaism — intermarry, create Jewish homes and raise Jewish children should convincingly illustrate how intermarriage does not inhibit Jewish involvement," she wrote, citing her research on intermarried couples.
That argument got a boost two years ago, when a major survey of American Jews found that most children of intermarried couples were being raised Jewish. And on Tuesday, McGinity said she was glad to hear that Hebrew College was dropping its partner requirement, which she said she knew had caused students to leave the program in the past.
"The decision to admit rabbinical students who have beloveds of other faith backgrounds is a tremendous way of leading in the 21st century, illustrating that interpartnered Jews can be exemplars of Jewish leaders," she said.
She added, "Knowing my colleagues, I can only imagine the hours and hours of thought that went into this decision."
This article originally appeared on JTA.org.
The post In a shift, Hebrew College will now admit and ordain rabbinical students whose partners are not Jewish appeared first on The Forward.