A controversy over John Paul II's legacy looks set to spur some undecided voters in Polish elections due by November, political analysts say, as allegations that the late pope concealed child abuse deepen rifts in the predominantly Catholic country.
Claims in a new book and TV documentary that the late pope, born Karol Wojtyla, knowingly hid clerical pedophilia scandals as archbishop of Krakow have led some Poles to demand that his legacy be reassessed.
This has provoked a furious response from religious conservatives, with politicians from the ruling nationalists Law and Justice (PiS) defending John Paul II in the face of what they say is a left-wing plot to discredit the nation's biggest moral authority.
"Defending the pope's stance, even against documents and facts, may be crucial for those that in normal circumstances would not have voted, but in this case they might go to defend John Paul II's legacy," Olgierd Annusewicz, a political scientist at Warsaw University, told Reuters.
Support for PiS has risen by 3 points to 31%, a March 14-16 Kantar opinion poll for private broadcaster TVN24 showed, while liberal opposition party Civic Platform (PO) has fallen 3 points to 26%.
While political analysts say it is too early to attribute this to the papal controversy, a PiS' vocal stance backed by a resolution passed in the lower house of parliament on March 9 to defend his name has pushed the issue onto the election agenda.
"I'm not a ruling party supporter, but others that were not backing it till now may change their minds because our pope is being insulted," pensioner Elzbieta Molag, 67, told Reuters in Krakow.
The opposition PO abstained from voting on the resolution. Its leader, Donald Tusk, said on March 19 that pedophilia in church cannot be excused but should not be a reason to question the pope's role in Polish political history.
The Polish Catholic church urged Poles to respect the late pope's memory, saying that a review of its archives did not confirm the accusations against the church hierarchy, adding that some files could be opened in future. The Vatican has not responded to requests for comment about the allegations in the book, called "Maxima Culpa."
"Opening the files that contain sensitive personal data requires care and consent from a local bishop, and possibly also the Vatican. It won't be a quick process," priest Lukasz Michalczewski, spokesman for the archbishop of Krakow, told Reuters.
Abuse
The account of Slawomir Mastek, a 56-old photographer from the late pope's hometown Wadowice, opens the book by a Dutch investigative journalist published on March 8. Mastek said he was molested by two priests when he was a 13-year-old altar boy.
While one of the priests acknowledged his guilt, when Mastek confronted the church about the other case in 2011, he says local priests banned him from filming religious ceremonies and he lost up to 80% of his business.
Michalczewski said he was not familiar with Mastek's case, adding that the church has apologized to those that feel hurt by its actions and is ready to apologize again.
Mastek's studio on John Paul II central square Wadowice remains open but he now makes his living renovating houses. With elections due in autumn, he worries the politicization of the issue will delay justice for other victims.
"If politicians want to help they should speak to the church so that it finally starts dialogue and opens its archives," Mastek told Reuters.
In the 1980s, the Catholic Church was a voice of freedom in Poland, inspiring people to stand up against communist rule.
However, it is slowly losing ground partly due to clerical sex abuse scandals, and accusations of cover-ups that have rocked the Church in recent years not only in Poland but in many countries, and involved John Paul II's successors. As many as 70% of Poles support abortion rights, up 17 points since 2019, and children's attendance at religion classes has been falling since 2010, polls show.
Attack
Filip Kaczynski, a PiS lawmaker from Wadowice, said he has not seen the documentary but is convinced it aims to smear the late pope.
"Given that it was aired by a TV station that is openly supporting the opposition it's not an accident, it's an attack on the church that may be part of a political infighting," he said.
In Wadowice, the Museum of the Family Home of John Paul II has no plans to include the controversy, Deputy Director Katarzyna Coufal-Lenczowska said.
"You can't redefine the most important values and that's what this exhibit is about," she told Reuters.
However, despite around three dozen people in Wadowice refusing to comment on camera, some residents voiced criticism of the town's relationship with the church.
"In Wadowice everybody knows each other and PiS rule here, so if somebody works in a school or a public institution and talks loudly about their views they could face consequences," a 46-year-old woman working as a freelance tutor told Reuters on condition of anonymity.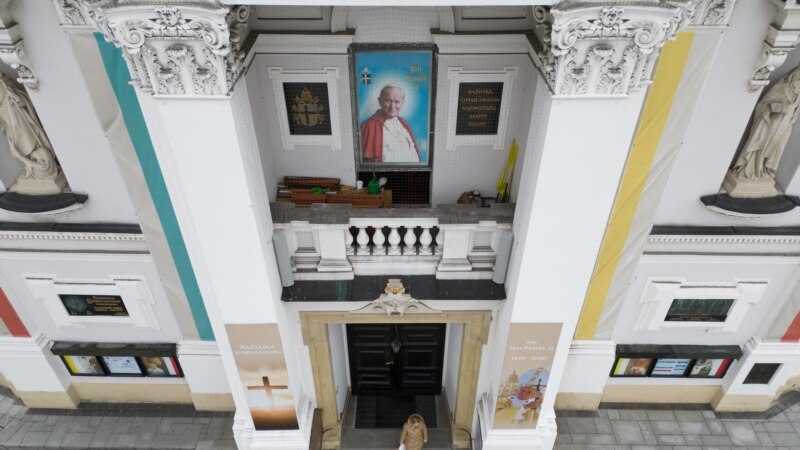 Voice of America