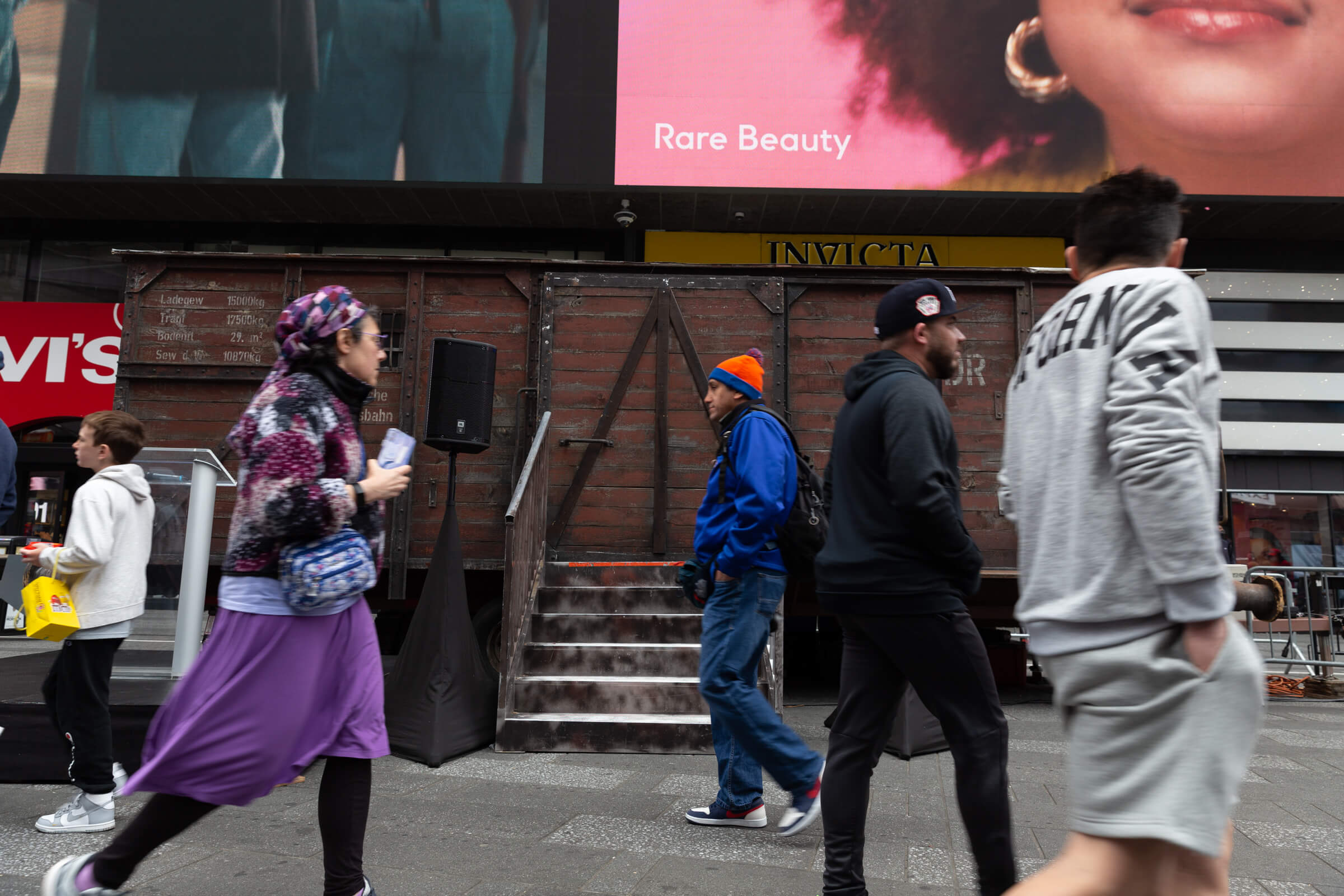 In Times Square, below bright, high-definition screens advertising Coca-Cola and T-Mobile, sits a 27-foot wooden cattle car used to shuttle millions of Jews and others to concentration camps.
"Times Square is iconic. This is the crossroads of the world. So if your goal is to increase awareness, this is the place you want to be," said Todd Cohn, executive director of Southern NCSY, a chapter of the national Jewish youth organization founded by the Orthodox Union.
The traveling cattle car, which contains a video exhibit on the horrors of thee Holocaust is part of Southern NCSY's Hate Ends Now tour, which aims to combat antisemitism and all forms of hate. In a little over a year, the cattle car has been to five states, 65 schools, and been seen by at least 60,000 people. To travel between campuses and venues, it gets hitched to a Ford 250 pick-up truck.
After the cattle car's sliding door is closed, viewers are held in near-darkness, the slats of the walls illuminated only by projected visuals filmed and edited by Sagi Kahane-Rapoport, a Canadian-American filmmaker who originated the idea for the exhibit together with Jordana Lebowitz, executive director of ShadowLight, a Holocaust education organization.
For the exhibit, Kahane-Rapoport interviewed two Holocaust survivors, Hedy Bohm and Nate Leipcinger, and made a short film reenacting the experiences they related in their testimonies. Through a technique called projection mapping, a series of projectors ensure the walls of the cattle car are covered in one seamless, moving image.
For those who experienced it in Times Square, the effect was profound. "Seeing this makes me remember how many people didn't get to walk out of that cattle car," said Akiva Daitchman, who came to see the exhibit after seeing posts about it on social media. "And we just walked out."
The post Photos: In the middle of Times Square, a Holocaust cattle car appeared first on The Forward.