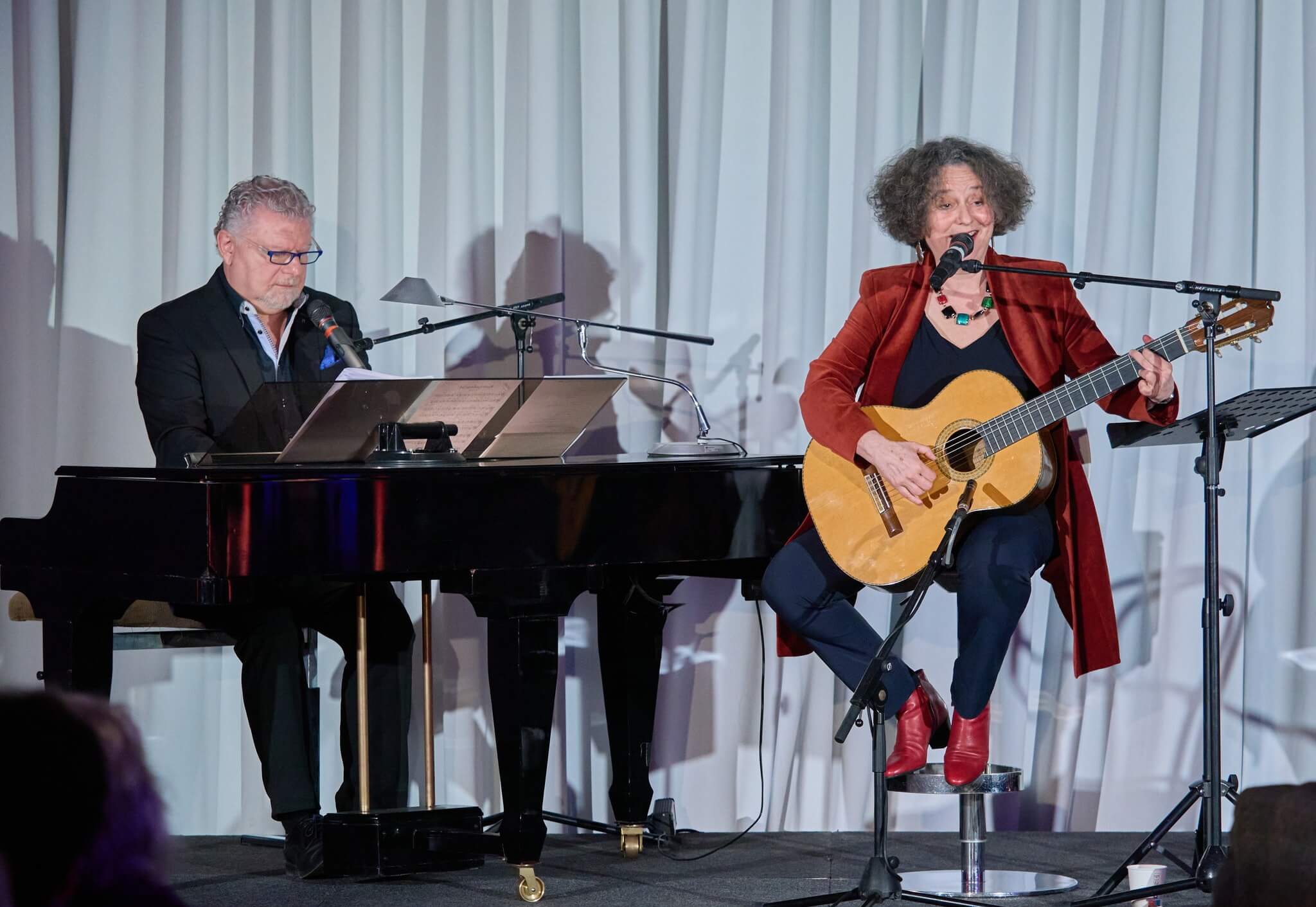 בײַם הײַיאָריקן ייִדיש־קולטור־פֿעסטיװאַל אין װין (װאָס וועט ממשיך זײַן ביז סוף אַפּריל) האָט מען אײַנגעסדרט עטלעכע קאָנצערטן אונטערן קעפּל "ייִדישע דיװאַס" — אַרײַנגערעכנט אַ קאָנצערט מיט די זינגערינס שוראַ ליפּאָװסקי (האָלאַנד) און לױקאַ טשאַצקיס (פֿראַנקרײַך), בשותּפֿות מיט דער עסטרײַכישער אַקטריסע מערסעדעס עכערער װאָס האָט פֿאָרגעלײענט פּאָעזיע. אָט דער קאָנצערט מיט דראַמאַטישע פֿאָרלייענונגען איז פֿאָרגעקומען ערבֿ פּסח, דעם 4טן אַפּריל 2023, אינעם װינער ייִדישן מוזײ.
דעם פֿעסטיװאַל אָרדנט אײַן דער װינער ייִדישער אינסטיטוט פֿאַר בילדן דערװאַקסענע (לױט די דײַטשישע ראָשי־תּיבֿות: ייִפֿ״ע) מיט ראָמאַן גרינבערג אין שפּיץ. פֿאַרן קאָנצערט האָט גרינבערג באַגריסט דעם עולם און אָנגעװיזן אַז הײַיאָר מערקט מען אָפּ דעם 35סטן יובילײ פֿון ייִפֿ״ע. אין װין קען מען גרינבערגן דער עיקר װי דעם דיריגענט פֿון אַ באַרימטן ייִדישן כאָר. בײַ דעם קאָנצערט מיט ליפּאָװסקי און טשאַצקיס האָט ער באַגלײט די זינגערינס אױף דער פּיאַנע און אױך אונטערגעזונגען בײַ עטלעכע לידער.
בעת דער ערשטער העלפֿט פֿון קאָנצערט האָט שוראַ ליפּאָװסקי שױן בײַם סאַמע אָנהײב פֿאַרבעטן דעם עולם מיטצוזינגען. די אַמסטערדאַמער זינגערין האָט מזכּה געװען די צוהערער מיט שפּאָגל נײַע לידער אױף ייִדיש װאָס זי האָט אָנגעשריבן בעת דער פּאַנדעמיע. בהסכּם מיטן מאָטאָ פֿון קאָנצערט, "מזל און גליק", האָבן די דאָזיקע לידער אױסגעדריקט האָפֿענונג און אָפּטימיזם — אַ שטײגער, די האָפֿענונג פֿון אַ מוזיקערין אױף בעסערע צײַטן, בעת זי זיצט, נעבעך, עלנט בײַ זיך אין דער הײם און קען זיך, צוליב דער מגפֿה, ניט זען מיטן עולם.
ליפּאָװסקיס סטיל דערמאָנט אַ מאָל אָן דעם שטײגער פֿון אַ דיכטער־מוזיקער: אָפֿט באַגלײט זי זיך אַלײן מיט דער גיטאַרע. װי ס׳רובֿ לינק־געשטימטע דיכטער־מוזיקער, האָט זי ליב צו זינגען װעגן האָפֿענונג אױף אַ בעסערן מאָרגן, אױף אַ װעלט װוּ אַלע װעלן לעבן אין איינעם בשלום־ושלװה, אָן קײן שום פֿײַנטשאַפֿט, נאָר אַלע ווי איין "טײַערע משפּחה", כּלשון שוראַ ליפּאָװסקי.
אײן ליד האָט ליפּאָװסקי געװידמעט די פּליטים. דאָס איז געװען אַ ליד װעגן בײמער — װי אַן אימאַזש פֿאַר לענדער און מדינות װאָס זאָלן זײַן אַ מיקלט פֿאַר אַנטװאָרצלטע און הײמלאָזע. אױף די צװײַגן פֿון אָט די בײמער קענען זיצן אַלע בײַנאַנד, ד״ה פֿריש צוגעקומענע בײַ גלײַך מיט פֿון דורות אײַנגעזעסענע; דער בױם "בענטשט צום אָנקום דעם װאָס שאַצט זײַן שײנקײט אָפּ, שטרעקט אױס זײַנע גרינע צװײַגן, היט אָפּ אַלע פֿײגל", װי ס׳האָט געזונגען ליפּאָװסקי.
װי אַ מין קאָנטראַפּונקט צו ליפּאָװסקיס ראָמאַנטיש־אידילישע װיזיעס, האָט מערסעדעס עכערער געלײענט, אויף דײַטש, די אָפֿט שטאַרק איראָנישע פּאָעזיע פֿון דער דײַטשיש־ייִדישער דיכטערין מאַשע קאַלעקאָ (געב׳ גאָלדע־מלכּה אופֿען, 1907–1975). אָט זײַנען למשל עטלעכע שורות פֿון קאַלעקאָס "אינטערװיו מיט זיך אַלײן" (1932), איבערגעזעצט פֿון אַני־הקטן (עכערער האָט עס רעציטירט אױף דײַטש).
מער פֿון אַלע װערטער פֿלעג איך זאָגן "נײן".

צו פֿיל נחת האָט די מאַמע פֿון מיר ניט געהאַט,

און טאָמער געדענקען יענע יאָרן אַקוראַט —

װיל איך ניט כ׳זאָל געװען אַ קינד בײַ זיך אַלײן.
…
בײַ דער מאַטורע האָט דער לערער גערעדט װעגן יצר

פֿון יוגנט און װעגן עטישן ניװאָ,

געזאָגט אַז איצט טרעטן מיר אַרײַן אין לעבן, "גײטס איר

בשלום," אָבער איך בין בלױז אַרײַן אין ביוראָ.
…
אַז ס׳שײַנט די זון, פֿאָר איך אַ שטיק

מיטן בלײַער אױף דער בונטער לענדער־קאַרטע,

נאָר אין טעג פֿון רעגן װאַרט איך

אױפֿן אַזױ־גערופֿענעם גליק.
אין 1945 האָט די פּאָעטעסע צוגעגעבן צו דעם "אינטערװיו" אַ "פּאָסט סקריפּטום"; איך ציטיר דאָ עטלעכע שורות אין װעלכע די מחברטע שרײַבט װעגן איר יונגן זון:
פּונקט װי די פּליטימס טאָכטער מיט יאָרן צוריק!

באַטראַכט איך אָט דעם "דאַ קאַפּאָ", אַזאַ װעלט מיר …

ער האַלט פּונקט װי איך, אין זײַן עלטער,

אַז שלום װעט זײַן, װי נאָר עס װעט זײַן אױס קריג.
װי מע דערװיסט זיך פֿריִער פֿונעם "אינטערװיו", האָט קאַלעקאָ אַלײן מײדלװײַז געהאַלטן, אַז ס׳װעט זײַן שלום, באַלד װי די מלחמה װעט נעמען אַ סוף. דעמאָלט האָט זי, אַ געבױרענע אין גאַליציע, זיך געהאָדעװעט אין דײַטשלאַנד. איר זון װידער איז געגאַנגען אין דער שול אין אַמעריקע, װאָס איז בײַ זײ געװאָרן אַן אַזיל נאָכן אַנטלױפֿן פֿון אײראָפּע.
אין אַן אַנדער ליד, אויך אויף דײַטש, װאָס עכערער האָט רעציטירט, רעדט קאַלעקאָ װעגן דער אַמאָליקער הײם, װעגן לעבן אין דער פֿרעמד און בענקשאַפֿט — און דערגײט צום אױספֿיר אַז זי האָט "זיך אױסגעקליבן די ליבע פֿאַר אַ הײם". ובֿכן, די מערסטע פֿון קאַלעקאָס לידער װאָס מע האָט געהערט דעם אָװנט זײַנען טאַקע איראָנישע ליבע־לידער.
ליפּאָװסקי האָט געזונגען ניט דװקא װעגן ראָמאַנטישער ליבע, אָבער אין אײנעם אַ ליד איז געגאַנגען די רײד װעגן אהבֿת־ייִדיש, ליבשאַפֿט צום ייִדישן לשון. מיטן דאָזיקן ליד האָט די דיכטערין באַגריסט װאָס מע האָט גענומען פֿונסנײַ לערנען ייִדיש בײַם אַמסטערדאַמער אוניװערסיטעט. ליפּאָװסקי האָפֿט, אַז דאָס װעט העלפֿן אױפֿלעבן דאָס װעלטלעכע קולטור־לעבן אױף ייִדיש אין דער שטאָט. אינעם ליד שילדערט זי, װי אַזױ ייִדיש־אַמסטערדאַם, לכל־הפּחות דאָס װעלטלעכע ייִדישקײט, איז גלײַך װי אַנטשטומט געװאָרן נאָכן חורבן. ווי ליפּאָווסקי שרײַבט: "אַלטע װערטער אין אַ נײַעם גוף הײבן די אותיות אױף," און דער גאָלדענער פּאַװעס גורל "האָט זיך געביטן אין אַ תּחית־החיים־געזאַנג". מיטן טשיקאַװען אױסדרוק "תּחית־החיים" איז ליפּאָװסקי אױסן — װי זי האָט אונדז מסביר געװען בײַ אַ גלאָז װײַן נאָכן קאָנצערט — אַז מע לעבט ניט אױף די טױטע, עליהם השלום, נאָר דאָס לעבן גופֿא.
די צװײטע העלפֿט פֿונעם קאָנצערט האָט געקלונגען מיט גאַנץ אַנדערע קלאַנגען. די זינגערין לױקאַ טשאַצקיס, װאָס װױנט הײַנט אין פֿראַנקרײַך, האָט צװישן אַנדערע געזונגען װאַריעטע־לידער װאָס מע האָט געשפּילט אין פֿאַר־מלחמהדיקן װאַרשעװער קאַבאַרעט און, דער עיקר, ייִדישע טאַנגאָס פֿון פּױלן און אַרגענטינע. פֿון אַרגענטינע, דעם הײמלאַנד פֿון טאַנגאָ, שטאַמען טשאַצקיסעס טאַטע־מאַמע, און אין בוענאָס־אײַרעס האָט זי אַלײן געוווינט יאָרן לאַנג.
טשאַצקיס האָט אױפֿגעפֿירט עטלעכע קאָמפּאָזיציעס — לידער אױף ייִדיש און פּױליש — פֿון יעזשי פּעטערסבורסקי, אַ פּיאַניסט און קאָמפּאָזיטאָר װאָס האָט געלעבט און געשאַפֿן סײַ אין צװישן־מלחמהדיקן פּױלן, סײַ אין אַרגענטינע. ער און דער דיכטער אַנדזשײ װלאַסט, װאָס איז אומגעקומען אין װאַרשעװער געטאָ, האָבן בשעתּו געהאַט אַ גרױסן נאָמען אין פּױלן.
אַחוץ װײניקער באַקאַנטע טאַנגאָס און דזשעז־לידער אױף ייִדיש און פּױליש האָט טשאַצקיס אױך געזונגען — צוזאַמען מיט ראָמאַן גרינבערג — אַזעלכע שלאַגערס װי "כ׳האָב דיך צופֿיל ליב" און  "איך װיל אײביק דיך געדענקען".
בעת דער פּאַנדעמיע האָט טשאַצקיס אַלײן אױסקאָמפּאָנירט מוזיק צו פֿראַדל שטאָקס אַן עראָטישער "סערענאַדע" — לאָמיך דאָ ציטירן עטלעכע שורות:
ניט װיג דײַן קאָפּ

אין חלומס שױס,

עס װאַרט מײַן שױס אױף דיר.

ס׳איז בלױ די נאַכט,

קום, קום אַרױס

און בענק, און בענק מיט מיר. —
די טעמעס פֿון אַזעלכע ליבע־לידער האָבן זיך גוט צוגעפּאַסט צו קאַלעקאָס דײַטשישער פּאָעזיע אין עכערערס װוּנדערלעכער אינטערפּרעטאַציע. אין אײנעם פֿון די לעצטע לידער װאָס זי האָט פֿאָרגעלײענט, רעדט זיך װעגן אַ פֿרױ אַן "אַלטער עגאָ" (אַ צװײטער איך) װאָס נאָר די דיכטערין קען זי זען און װאָס באַגלײט זי כּסדר און אומעטום. יענע מאָדנע קרובֿה פֿירט זיך תּמיד אײדל, סטאַטעטשנע און בנימוסדיק, טראַכט אַלצדינג גוט איבער און איז אומעטום אַן אָנגעלײגטער גאַסט, בעת
איך בין אין דער הײם דאָך בײַ די הײמלאָזע,

אָפֿט טרײסלען שטורעמס די געצעלטן,

בעת ס׳זײַנען פֿרײַ פֿון דערנער אירע װעלטן,

נאָר פֿרײַ זײַנען זײ אױך פֿון רױזן ראָזע.
בײַם סוף פֿון קאָנצערט, װאָס האָט שטאַרק אױסגענומען בײַ די צוקוקער, האָבן די קינסטלערינס זיך געזעגנט מיטן עולם, זינגענדיק דאָס ליד "אַבי געזונט".
The post Shura Lipovsky sings her latest songs at Vienna's Yiddish Culture Festival appeared first on The Forward.