На совещании с членами Правительства. Слева направо: Первый заместитель Председателя Правительства – Министр финансов Антон Силуанов, заместитель Председателя Правительства – руководитель Аппарата Правительства Константин Чуйченко, заместители Председателя Правительства Юрий Борисов, Ольга Голодец и Дмитрий Козак, заместитель Председателя Правительства – полномочный представитель Президента в Дальневосточном федеральном округе Юрий Трутнев.
Из альбома к материалу
11 октября 2018 года Москва, Кремль
_________________________________
Of course not. The problems have to be formulated, analyzed, understood, comprehended, and addressed. 
But first of all and most of all, this is the overarching strategic condition: 
The Alliance had its own difficulties at that time, it should work better now, and there are very powerful forces which do not want it to be restored and functioning. And lately, Skripal and his shenanigans might have been the very significant part of these forces. 
Driving the multiple wedges between the Allies was the logical Abwehr's strategy which they pursued with the fanatical and dogged persistence, and this simple but effective strategy continues to be the same to this day. 
The most recent (last 20-25 years) phenomenon of the open, cynical, self-destructive, Mafioso Oligarchic Robbery of Russia is an Abomination. Address these issues, work together on eradicating the Global Organized Crime which came to play a certain role in the modern Intelligence Operations. These "by necessity" ties corrupt the Intelligence Organisations visibly and invisibly, it seems to me. Ziz iz not the Leftist position, this is the common sense position. 
Michael Novakhov 
10.12.18 
Links
_______________________________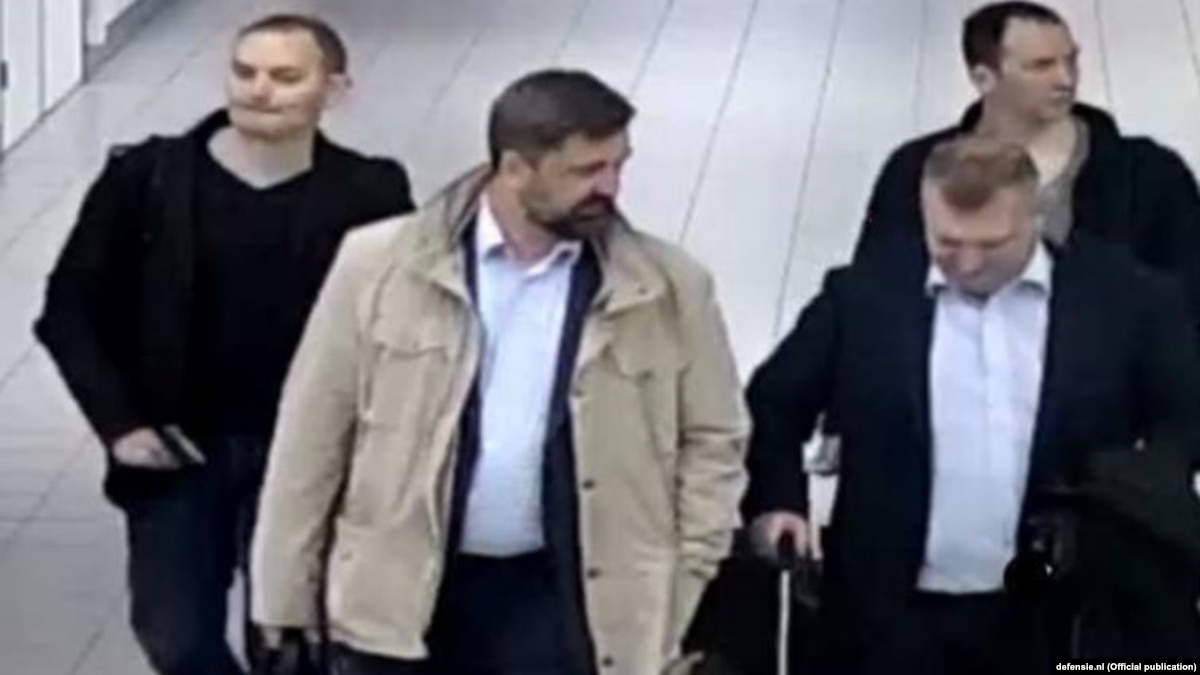 Anytime a clandestine agency is in the global headlines on a daily basis, something strange is going on. That has certainly been the case with Russia's military intelligence agency, known by its former abbreviation, the 
GRU
.
British intelligence identified two suspected 
GRU
 agents as the culprits in the March nerve-agent poisoning of former Russian spy Sergei Skripal and his daughter in Salisbury, setting off a chain reaction of revelations about one of the men, identified as 
GRU
 Colonel Anatoly Chepiga, and his likely involvement in the conflict in eastern Ukraine and the 
2015 assassination in Ankara 
of Chechen rebel commander Abdulvakhid Edelgiriyev.
On October 4, authorities in the Netherlands released a trove of information on an alleged 
GRU
 operation in that country aimed at hacking and disrupting international organizations including the Organization for the Prevention of Chemical Weapons (OPCW) and the Dutch investigation into the 2014 downing of a Malaysia Airlines passenger jet over the conflict zone in eastern Ukraine.
The most emblematically risible piece of evidence was a taxi receipt showing that one of the men had traveled to a Moscow airport directly from 
GRU
 headquarters.
In addition, suspected Russian 
agents have been busted 
in Norway, Estonia, Greece, and Montenegro in recent months.
Off The Rails?
Writing in The Guardian on October 5, Moscow correspondent Andrew Roth called the developments "embarrassing."
"The exposure of several consecutive European operations should raise questions about whether Russian military intelligence is being intentionally provocative or has simply gone off the rails,"
 Roth wrote
.
Russian state-controlled and state-friendly media have widely reported official denials of any government involvement in the alleged incidents and have denounced them collectively as a new wave of "spymania."
The 
Vesti nightly news report
 for October 5 was typical, arguing that the new accusations were both a "pretext" for imposing new, already planned sanctions against Russia and a bid to unify a fractured West on the cusp of the United Kingdom's expected withdrawal from the European Union.
But, in other searches for explanations to the onslaught of revelations, some observers have speculated that the 
GRU
 was being undermined by another Russian security agency such as the Foreign Intelligence Service (SVR) or the Federal Security Service (FSB).
The 
GRU
 has benefited financially and in terms of prestige from the Kremlin's conviction that Russia is engaged in a hybrid confrontation with the West, the argument goes, and other security agencies want a bigger piece of the action.
"I have heard many conspiracy theories along the lines that this is a struggle between the FSB and the GRU, but this is impossible," Roman Dobrokhotov, editor of The Insider, a Russian publication that partnered with the open-source investigations group Bellingcat to publish many of the recent revelations, told Current Time TV. "It is just that people are trying to rationalize all this — they think it can't really be so absurd. But for one thing, there is a famous maxim that you should never use a conspiracy to explain something that can be explained by incompetence. And this maxim applies to Russia even more strongly than in any other country."
Dobrokhotov noted, for example, that his investigations had revealed recently that a GRUagent had sent money to a group in Serbia that was being used to carry out a coup in neighboring Montenegro using Western Union. And he used the address of GRUheadquarters on the delivery order.
Vladimir Frolov, a political analyst who is believed to have been a Russian intelligence agent involved in the handling of notorious FBI double agent Robert Hanssen, made a similar point for the website Republic.ru.
"Of course there have been no attempts by the Russian special services to somehow 'undermine the GRU' by planting information in the media about military spies," he wrote. "This is a popular myth. The Russian special services are in stiff competition with one another, but no one is going to settle matters by committing high treason or exposing state secrets."
'Military Mind-Set'
Part of the explanation for the GRU's lapses might lie in the nature of the organization itself. It is a large military operation that is ultimately controlled by Defense Minister Sergei Shoigu, one of President Vladimir Putin's closest and reportedly politically ambitious friends, and Chief of the General Staff Valery Gerasimov, who has become the public face of Russia's doctrine of "hybrid war."
"Because Shoigu is ambitious, he's increasing GRU operations abroad to make the Defense Ministry a bigger player in Russian foreign policy," Russian security analyst Andrei Soldatov told The Telegraph in September.
Mark Galeotti, a nonresident fellow at the Institute of International Relations in Prague and an expert on Russian organized crime and the security forces, wrote in July that the GRU is emerging from a long funk that it endured under former Defense Minister Anatoly Serdyukov.
"The GRU is back," Galeotti wrote. "Its budgets are buoyant, its confidence high and its role in international operations reflect its relatively aggressive, military mind-set, where accomplishing the mission is more important than avoiding risks."
Journalist Dobrokhotov says the GRU's rapidly expanding agenda may partially explain its current embarrassing lapses.
"I think it has to do with personnel issues and that there isn't money to properly train people," he told Current Time, which is run by RFE/RL in cooperation with VOA. "They don't have the proper resources. They send the same agents, who have already let the country down, out on new assignments a second time. It would seem to be pure chaos, just a mess. The whole world has learned the word 'Novichok.' Now it is time for foreigners to learn the word 'bardak' [mess]. It is the best description of what is going on."
The agency, like the Defense Ministry as a whole, clearly seems to be having trouble coming to grips with the sheer amount of information publicly available on the Internet. In 2014, when the Kremlin was denying all involvement in the conflict in eastern Ukraine, researchers at Bellingcat and elsewhere had no difficulty finding photographs on social media posted by Russian soldiers and boasting of their activities in Ukraine.
Using open sources, Bellingcat has been able to put together a narrative about the shooting down of the MH17 passenger jet in July 2014 that runs circles around the various, often contradictory theories put forward by the Russian Defense Ministry itself.
Tip Of The Iceberg?
Other observers, though, are not so sure the incompetence theory explains the situation entirely. In recent years, the Kremlin has seemingly perfected the tactic of throwing out masses of theories and purported evidence and salacious stories as a way of confusing the information space and diverting attention.
As late as October 1, for instance, the mass daily tabloid Komsomolskaya Pravda, probably Russia's most broadly influential newspaper, published an interview with an anonymous "university instructor" who supposedly knows the alleged GRU agent in the Skripal case who is known as "Aleksandr Petrov."
Petrov, the unidentified source said, is a Kremlin-connected businessman who provides high-ranking officials with "miracle supplements" that are not available in Russia.
Still other commentators have been reminded of the common practice of the Soviet-era KGB of sending intimidating signals to targets. Russian rights activist and former Soviet dissident Viktor Davidoff posted on Facebook that he left Moscow four years ago after returning home one day and finding bits of wire and melted solder on the floor of his apartment.
"Someone was installing eavesdropping equipment and was doing it dirty [intentionally]," he wrote.
In this context, the Kremlin could see the exposure of its overseas efforts not as weakness, but as evidence of its multipronged activity. The tip of the iceberg, so to speak.
New York Times London correspondent Ellen Barry touched on this idea in an October 5 post on Twitter.
"Lots of talk today about GRU incompetence, but it's equally true that they've been getting away with an indefinite number of similar operations for an indefinite period *without* getting caught," Barry wrote.
Current Time TV correspondent Yegor Maksimov contributed to this report